Hello my lovely followers! Just thought I'd do a face of the day as well as hair of the day today as I got a bit curling wand happy earlier and so have a rather spirally-curled barnet at the minute!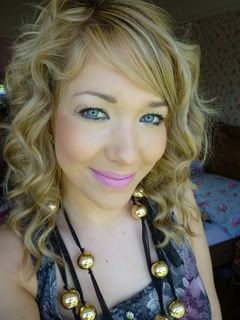 And here's a couple of scary close-up eye pictures to get a better look at my eye make up!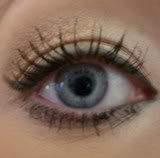 I had to put this picture up as I think it really shows how good the PRIMARK (shock horror) Whip Lash mascara is. I love it.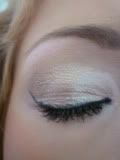 Unfortunately this pic really doesn't do the Sleek shadow justice!
FOTD:
Face:
Estee Lauder Double Wear Foundation in Sand
Benefit It Stick Concealer
Technit 'Hide It' Concealer Palette
ELF High Definition Powder
Primark Happy Couple Blush/Bronzing Duo
Primark Tinted Love Highlighter
Eyes:
A pale gold (base) and a slightly warmer gold eyeshadow (outer corners) taken from Sleek's Storm Palette
Collection 2000 Fastliner
Primark Whip Lash Mascara (amaaaazing mascara)
17 Eyebrow Pencil in Brown
Lips:
Collection 2000 Lasting Colour Lipstick in Bubblegum
HOTD:
I used my Babyliss Conical Wand to create lots of spiral curls. I actually prefer how the curls look a day after I've curled them, as they look looser and more natural. I thought I'd let you see what they look like straight away though. I used John Frieda's Frizz-Ease Moisture Barrier Hairspray to hold the curls in place.
Hope you like! :)