Okay, so I recently decided that I'm becoming addicted to Soap and Glory products. It wasn't until I had a look at alllll the products I had that I realised I've been addicted to it.... forever. Seriously, I can't stop buying it! I love love love all their products. And it's easy to understand why; when you look at their reviews they are pretty much all five stars! I just love everything about them; their packaging, how they smell, and most importantly - the effect they have! I think you need to take a look at this picture to understand the extent of my addiction to everything S&G:
Ridiculous I know, but I can't help but want more! Seriously, if you've never tried the brand I'd go for it. I don't think you can go wrong. I thought I'd highlight a few of my favourite products from my modest *ahem* collection.
Scrub Your Nose In It - £7.00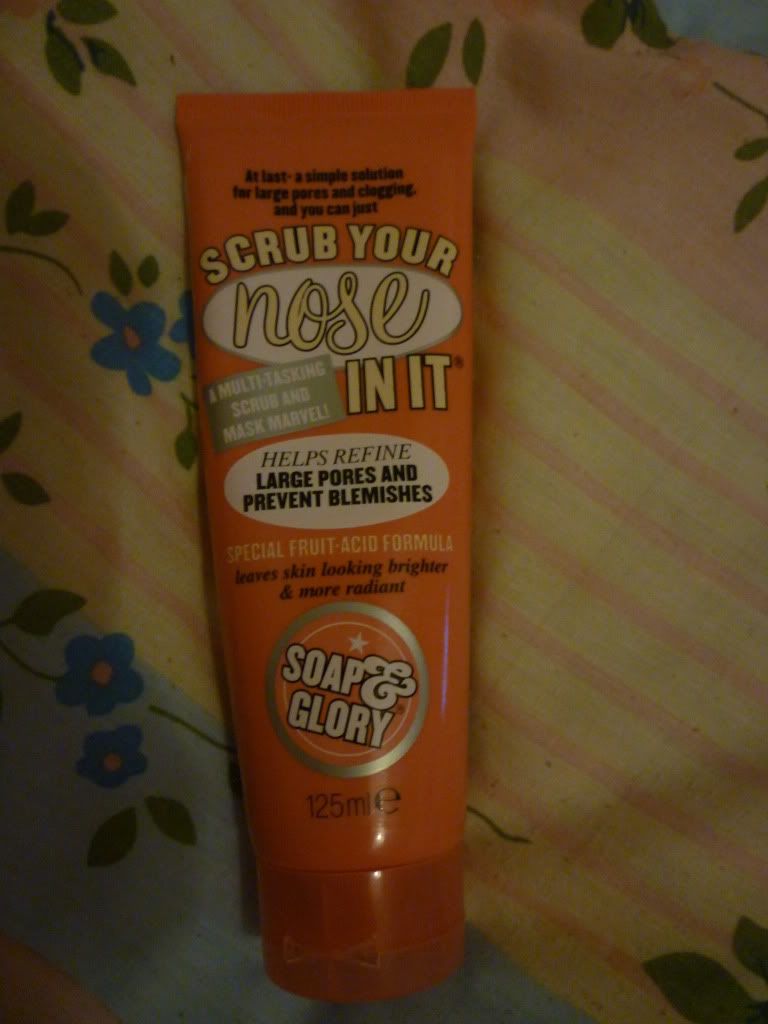 One of my favourite ever Soap and Glory products, it makes my skin feel amazing. It's basically a face scrub and mask in one; I use it as a scrub and it leaves my skin feeling so soft and fresh. It claims to 'help refine large pores and blemishes' and I think it most definately does the job. Although it's pretty pricey, I think it's worth it and I would buy it again.
Flake Away - £6.50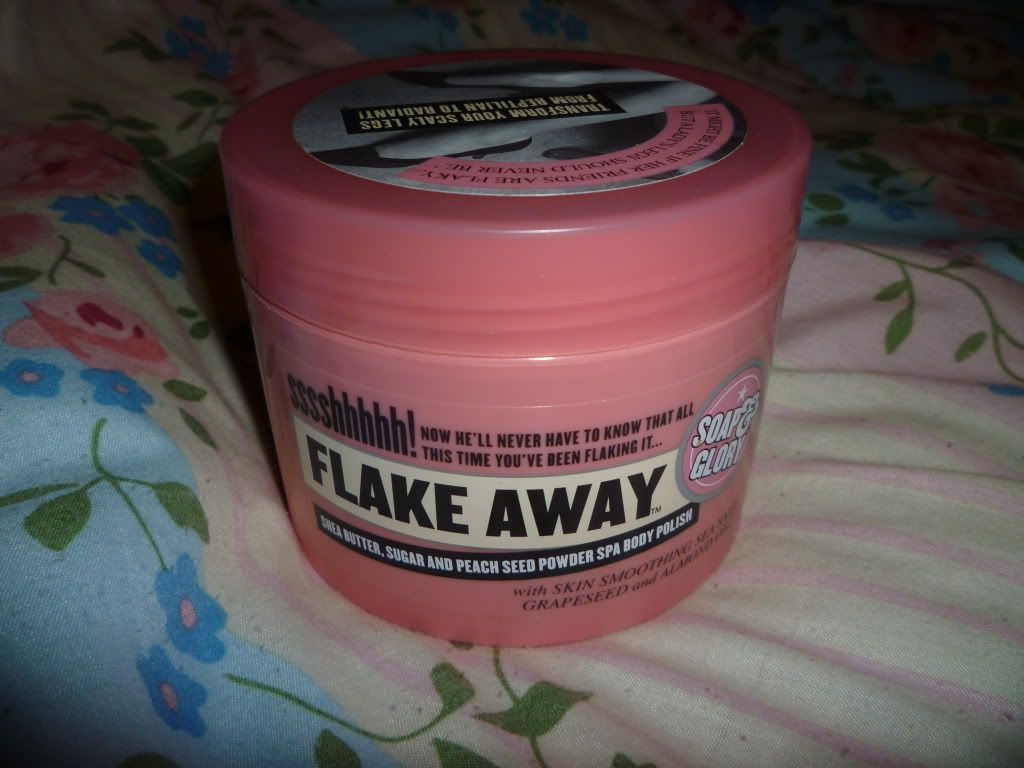 This is the best exfoliator ever. It smells like heaven in a tub and contains shea butter, sugar and peach seed extract. The sugar really helps to exfoliate dead skin cells and I find it's great for getting rid of stubborn old flakey fake tan. You get a massive 300ml tub which I think it's brilliant for the price, and if you love the signature Soap and Glory smell you'll love this product.
The Daily Smooth Moisturiser - £8.00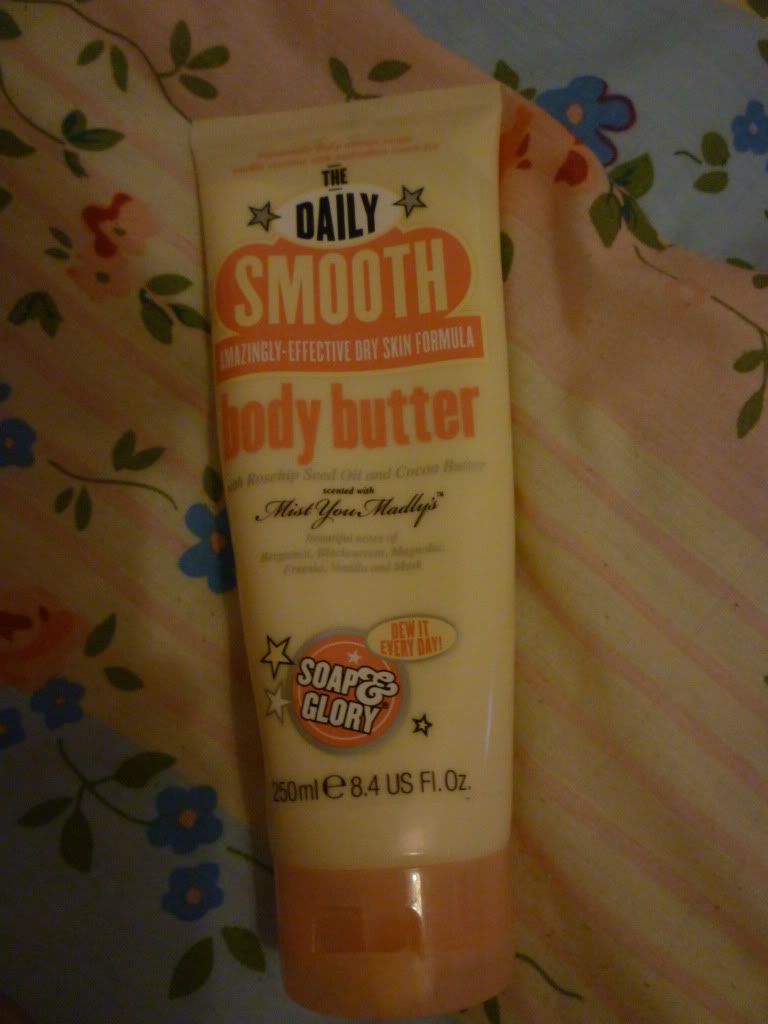 I heart this moisturiser. My holy grail moisturiser is usually Palmers Cocoa Butter but I think this is just as good if not better. I suffer from really dry skin and this always does the trick - my skin always feels deliciously smooth after using it.

The Fab Pore Facial Peel - £5.99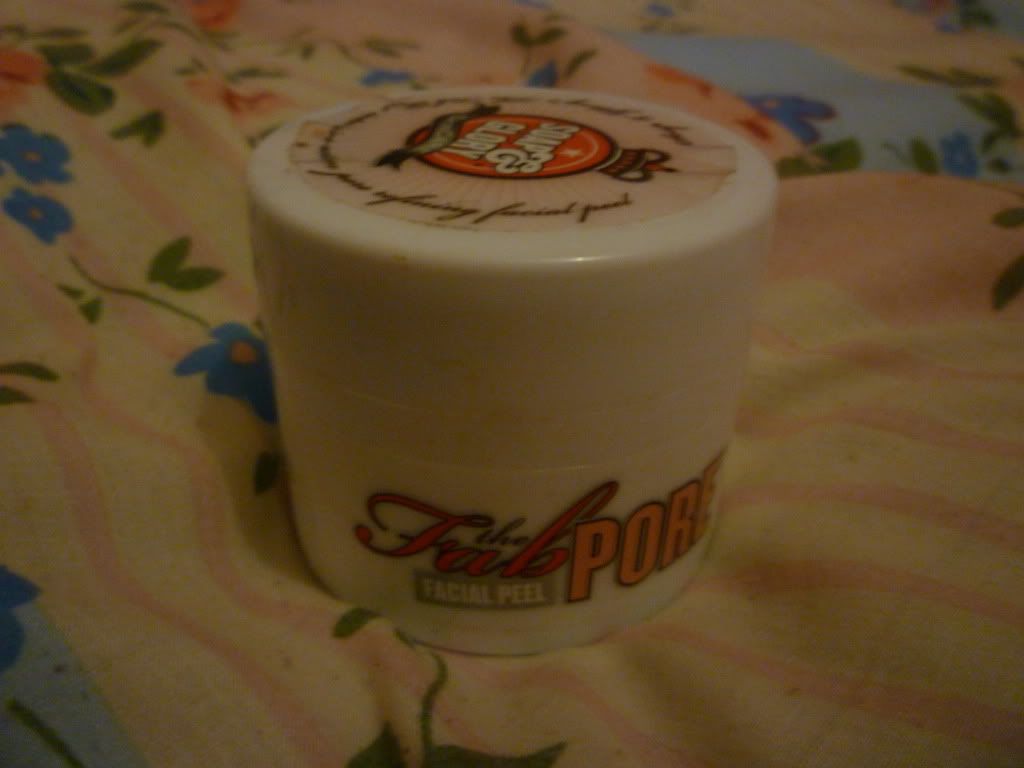 Now I wouldn't recommend buying this if you already have Scrub Your Nose In It. I bought this product first and loved it, then bought Scrub Your Nose In It and although I love that product too, they are very similar; you can tell buy the smell of them. The Fab Pore Facial Peel is however, a face mask and not a scrub, and does have really good effects. It does the same as the scrub, refining pores and making skin feel really soft. So basically, it's probably worth buying Scrub Your Nose In It as opposed to the peel, as the scrub can be used as a scrub OR a face mask.

Supereyes Supereyes Eye Gel - £7.99
Although this isn't strictly one of my favourite S&G products, it does stand out to me as being something different. It's quite simply an eye gel that is meant to instantly lift bags under the eyes using 'swift-lift technology'. Now I've used this a few times and have sat at the mirror staring at my bags wondering when it's going to take effect.... but you CAN feel it working. It tingles as soon as you put it on and once it's dried I think it does make a difference, all be it a subtle one. I think that after I've applied my makeup I see the difference more, and so I am glad I bought the product, but if you do buy it, don't expect amazing results.
I could go on and on about all the Soap and Glory products I love, but I'd be here for hours. Instead I thought I'd write a quick list of some of the other products and what I like about them:
- Girliglo/Flirtigo - Lovely spray-on moisturising body mist. Smells great and is brill for when you can't be bothered to smother moisturiser everywhere.
- Hand Food - Great hand cream that really does moisturise, as well as smelling lush.
- Sexy Motherpucker Lipgloss - I think everyone adores this product - I just love how it makes my lips tingle!
- Easy Glistening - Sweet almond dry oil body gloss that makes your skin SPARKLE.

Ooh and just a heads up - Boots have lots of Soap and Glory goodies on offer at the minute - I'm very tempted to purchase the Soap and Glory perfume!!
Image courtesy of Google Images

Is anyone else a bit of a Soap and Glory addict? Are there any S&G products I haven't mentioned that you'd recommend?