About a week ago I bought a tripod in the hope of doing a lot more outfit posts for you. I know my blog focuses predominantly around make up and beauty, and it will continue to do so, but fashion was the thing I first became interested in long before make up. I always spend the majority of my money on clothes, and I had always prided myself on my fashion sense. Recently though, I've felt a little bit like I've been stuck in a rut when it comes to fashion; I've found it really hard putting clothes together for some really bizarre reason (considering I have a LOT of clothes in my wardrobe!) So I thought, in order to make sure I start making more of an effort, or at least thinking more about what I wear, I'd start doing a lot more regular outfit posts. I absolutely LOVE reading outfit posts on other peoples' blogs, taking inspiration from them or simply admiring how fabulous you girls look in your beautifully put-together clothes, so I thought, why not give it a go? I've tried countless times to do more outfit posts, but due to the lack of a tripod it's been a tad difficult! So when it arrived this morning I had to have a play around and so here is what I'm wearing today!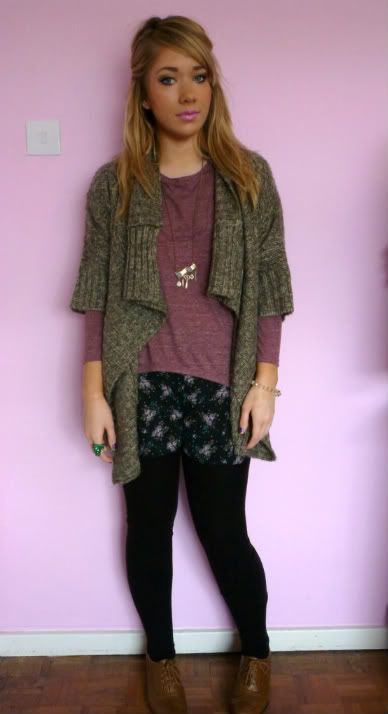 Do you like the light switch? I think it's a feature haha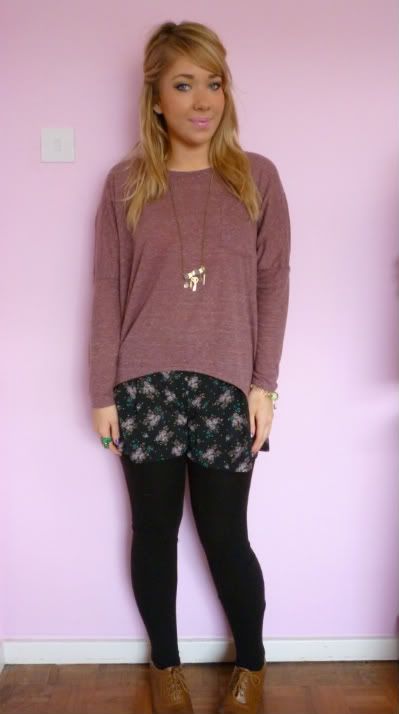 Top: Topshop
Cardigan: New Look
Shorts: Primark
Tights: Primark
Brogues: Primark
Necklace: Accessorize
Frog ring: Topshop
Now, I'm usually a complete and utter girly girl. The majority of my wardrobe is made up of pinks and pastel colours, but recently I've fallen in love with the gorgeous warm autumnal greens and reds. I think they look absolutely gorgeous together, and make me think of winter when I look at them. I'm still wearing girly clothes a lot of the time though, I think it's good not to stick to one set 'style' as such, I like to experiment a bit. The top is something a little different to my usual style too, but I love how baggy it is as I feel so comfy in it! I'm loving tights and shorts at the minute too, thick wooly tights of course!
What do you think? Do you like outfit posts or should I stick to purely make up and beauty?