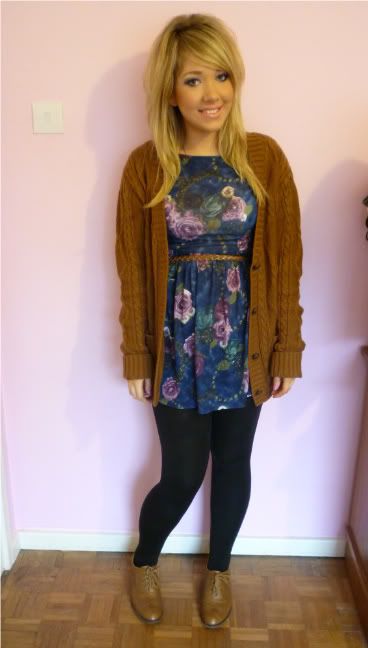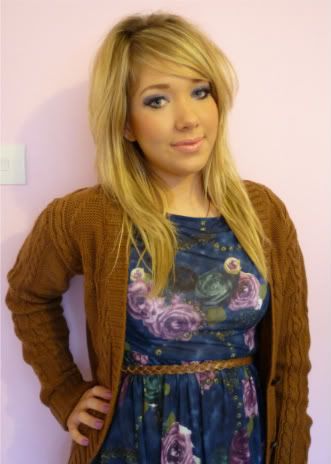 Dress - River Island
Cardigan - New Look
Belt -Primark
Brogues - Primark
I know, ANOTHER outfit post. I promise you I will do more make up posts soon. I was actually going to do a FOTD today but the pictures didn't come out properly, maybe tomorrow? Anyway, I feel like I've been wearing this dress constantly recently. It's just so easy to style and I feel so comfortable in it. I got it last summer from River Island and absolutely love it. The cardigan is something I saw ages ago (before Christmas I think?) and debated buying, but decided against it as it was £26.99 which I think is a bit steep for a cardi from New Look. Anyway, since then an influx of bloggers have been wearing it AND I've decided it would fit in perfectly with my wardrobe. Add to that the fact I had stuff to take back to New Look and it was 20% off student discount, so I bought it.
Not sure if you can tell but my hair is in desperate need of a dye... I'm going to the hairdressers tomorrow and can't wait. I invested in my first ever Denman brush the other day, and my god it makes your hair big with a bit of back-combing! I definitely recommend getting one if you struggle to back comb with just a comb. I tanned last night and feel so much better for it, it's amazing what a bit of fake tan can do for your confidence!
Lastly, I'm going to beg (again) for you to PLEASE vote for me in the ELLE internship competition if you haven't already. Thanks so much to everyone who's voted so far, it means so much to me. I'm not entirely sure if the winner is based purely on votes or if ELLE judges your entry too, I'm hoping for the latter. If you would like to vote for me please click
HERE
Hope you're all having a fab friday, can't wait for the weekend!