I know this is a pretty late post - I was meant to do it aggggess ago but kept putting it off for some reason. Anyway, seen as the January sales are still going on (most with 75% off!) I thought I'd show you some of my best buys this Jan.
First up, I went a bit mad in the River Island sale and got some fab buys. I went online as soon as the sale came on (at like 8 in the morning) and had the pick of everything.... I went on later in the day and all the good stuff was gone! I got this gorgeous tartan satchel for £15 reduced from about £35, and the cardigan I've wanted for AGES for £15 as well, reduced from £39.99 (although I'm not sure if it's gone back up to full price now?!)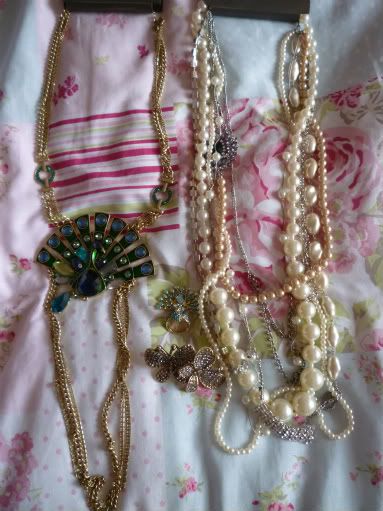 I have a silly amount of jewellery already but I couldn't resist getting these beauties. I think I'm just going to have to admit defeat and realise I just can't stop buying jewellery! The peacock necklace was £10 reduced from a whopping £49.99 (madness) and the pearl necklace was £8 reduced from £29.99. I got a peacock ring for £4 (£12.99 originally) and a butterfly ring for £4 (originally £14.99)
Now, I'm not really a big fan of Next. I don't dislike it, I just never really find much in there. I did however spot some beautiful shoes a few weeks before Christmas for £40 and seriously debated getting them. I decided against it though and thank goodness I did, as I found this pair sitting happily on the shelf a few days after the half-price sale IN MY SIZE. I think it was fate and had to get them. They're a beautiful velvet material and covered in gorgeous gems. I. Love. Them.
I actually found these a couple of days ago in the Accessorize sale with 70% off. I definitely recommend you keep popping in to Accessorize even when it looks like all the good stuff is gone, because these hadn't been in the sale before a couple of days ago and already are reduced such a lot. I think all together these two cost me less than a fiver, when usually they'd be £15 all together!
Finally, meet Pooh. I bought this little cutie on Christmas day would you believe it, in the ASOS sale. I'd wanted him for weeks before when he was £52 and I'd waited in the hope I'd get him on the big day. I didn't however, so when I saw him reduced to £33.50 I jumped at the chance. The only annoying thing is I had to wait several weeks after Christmas for him to come, as ASOS's saver delivery is ridiculously slow. It's free however, so can't really complain. I love everything about this necklace - his little arms and legs even move! Disney Couture is by far my favourite jewellery brand, the amount of detail they put in is ridiculous. I'm sure you've heard of the brand before, but if not, definitely check them out.
I think by far the best sale this year has got to be River Island. Buying it online was SO much easier than in the store, I absolutely hate River Island at sale time in the shop as everything is usually all over the place, and I hate scrambling around to get a look at the clothes. Topshop let me down big time; everything sold out on the website straight away (well what did I expect?) but the in store sale was SO disappointing. I literally couldn't find anything I liked.
What did all you girls manage to get hold of in the sales? Did you think they were good this year or a bit of a let down?