Hey girls, hope you're all okay! Apologies for being a tad absent on the blogging front recently, I've been very busy with uni work so don't have much time to blog (although I could probably make more time - I'm working on it!)
Today in Boots I spotted a selection of new nail polishes in the 17 cosmetics display. Now, I DO buy make up brands other than 17, but recently I've been really impressed with 17's new ranges and have felt the need to blog, so apologies if you're not a fan of the brand!
Anyway, the nail polishes in question were the new 'Supreme Shine' polishes and the 'Nail Xtras' Crackle Top Coat. I'd heard a little about both, but was most excited to try the GOLD crackle polish, after loving Barry M's black version so much. I wasn't overly thrilled with the colours for the Supreme Shine polishes (a good range of colours but nothing new) but I was so keen to get the crackle polish I thought I may as well go for it and use the 3 for 2 offer whilst it was on, so got 2 of the Shine polishes and a gold crackle polish.
I apologise in advance for the very bad nail polish application, I didn't have time to clean it up!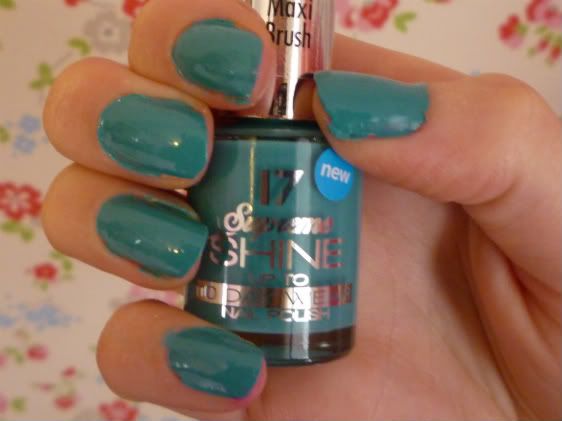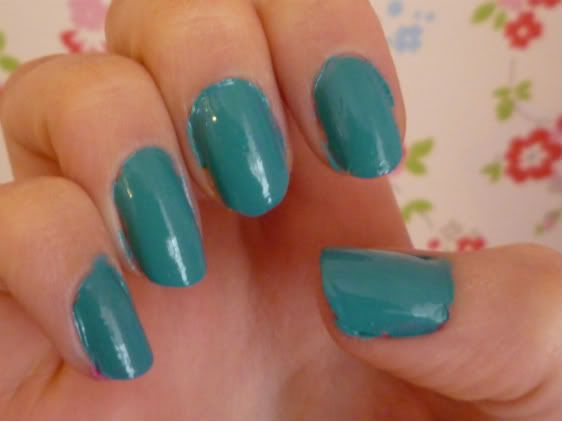 Supreme Shine Polish in 'Wave'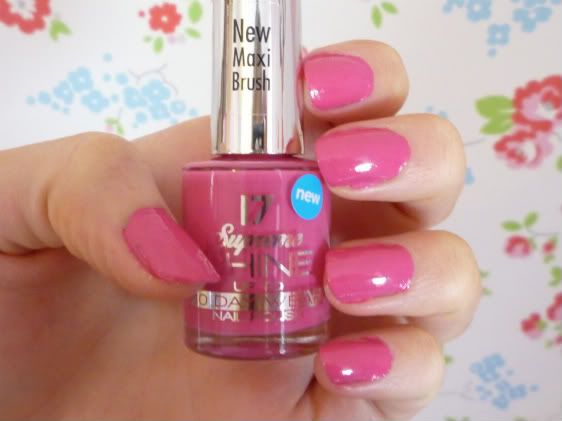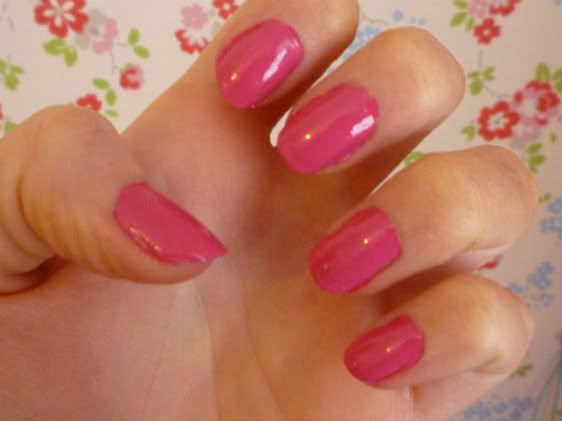 Supreme Shine Polish in 'Miami'
First up - the Supreme Shine polishes. Well I'm not going to rave about them or tell you they're anything new or exciting because they're not, really. They are very shiny (although aren't most polishes) but I think they're selling point is that they CLAIM to last for 'up to 10 days'. I will be testing them out and seeing how long they last, but at the minute I'll say they are really good, opague polishes, not dissimilar to Barry M (although no where near as pretty colours). I bought 'Wave', a bright turquoise blue, and 'Miami' a bright pink. They are priced at £3.99.
Crackle Top Coat
Finally, the Crackle Top Coat. As soon as I heard 17 were bringing out a gold crackle polish I jumped for joy - although brands like Models Own and OPI are bringing out crackle polishes in a plethora of colours, I was yet to find a gold alternative, and I LOVE gold polish. Therefore I was really pleased with 17 for bringing one out, as I'm a fan of the brand and knew it would be affordable. Affordable it is, at only £3.99, but to be honest, I'm really disappointed with it. It didn't seem to work as well as Barry M's crackle paint did, kind of bunching together and not making enough crackles (this COULD have been bad application but I have used Barry M's version several times and not had any problems) but my main disappointment with it was the colour. I really wouldn't describe it as gold - I was expecting a really true shimmering gold, but ended up with a dull, pewtery, silver gold. It's very matte which is another reason it disappointed me, I really expected it to be a lot shinier (maybe this isn't possible with this kind of polish - who knows) but overall I wish I hadn't bought it, and definitely won't be using it again. I hate posting negative reviews, especially when I'm such a fan of 17, but I'm really disappointed with this product and wouldn't purchase it again.
What do you think to 17's latest nail polish offerings? Let me know!