A few days ago MAC launched a new collection, entitled 'Quite Cute'. I'd been excited about the launch for weeks - after stumbling across the promo images I couldn't wait to get my hands on some of the goodies. The collection focuses on everything cute - and it's pretty clear it's very much inspired by the Harajuki culture in Japan (which I love). It's all about sugary sweet pinks and beautiful lilacs, minty greens and out-there brights. The collection consists of an eye shadow palette, 5 lipsticks, four lipglosses, 3 mineralize blushes (with love hearts embedded in the centre - HOW cute?!), 3 nail polishes and a set of eye lashes. I purchased 3 items from the collection - two lipsticks and a mineralize blush.
First up; the lipsticks. I was immediately drawn to the lipstick 'Playing Koi', after seeing various promo images and swatches online. Therefore when I stumbled on the launch online (a few days earlier than I'd expected) it went straight in my shopping basket. It was definitely the thing I was most excited about - and to be honest I'm a bit disappointed. It's a very peachy nude colour, which is a lovely colour in itself but it isn't what I expected. I imagined it to be a LOT more peachy/orange than it is (to be honest I thought it would be like 'Jazzed' from a few collections ago - it isn't), but it IS a nice colour that seems to be growing on me the more I look at it. Here it is: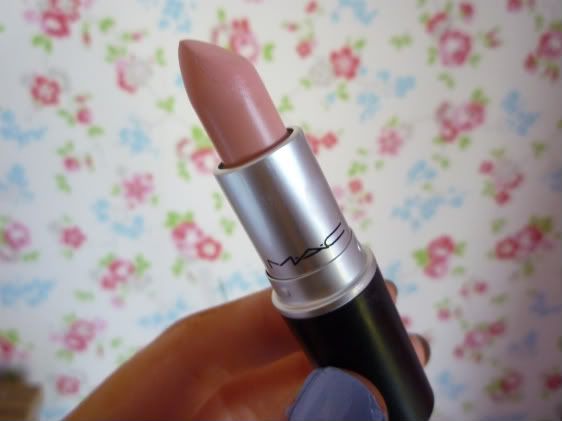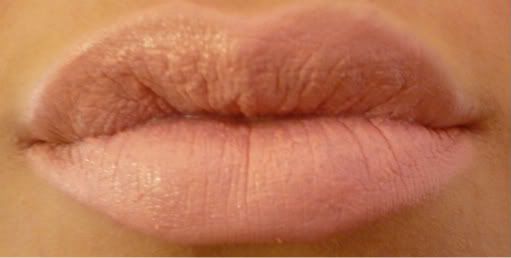 It definitely looks a bit peachier in real life, but still nothing like I'd imagined. I DO like it though, but it's definitely the least favourite of everything I got. Another thing I dislike about it is the fact it's a satin finish - I've never used a satin finish lipstick before and I HATE the formulation. It just sticks to your lips and is very drying. Having said that, it's a nice colour.
Next up, my absolute favourite favourite thing I got. This lipstick is called 'Candy Yum Yum' (I love the name) and is to die for. I'm actually in love with it. It's a bright, shocking, in-your-face almost fluorescent pink that absolutely glows on pale skin. It has definite violet hints to it, which I love, I've actually been looking for a lippy that has for ages. It's definitely not for the faint-hearted though - if you're a nude girl or you steer clear from brights this obviously isn't for you. I, however, am all about the brights and LOVE it.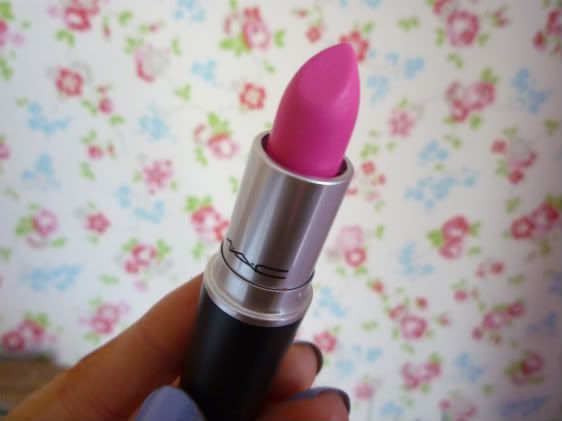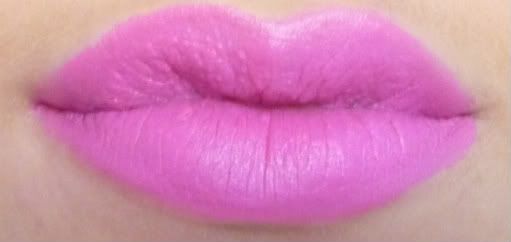 It's actually even brighter than this in real life!
Finally, the mineralize blush. After lots of debating over whether to get Sakura or Giggly I decided on Giggly (Sakura is a lot more lilac - I didn't think lilac would really suit my skin tone). Giggly is a beautiful, sugary pink that has definite coral hints in the pan, but not so much on the skin. It has a gorgeous little heart embedded in the centre, which is a more purple, shimmering pink. It looks gorgeous on pale skin or tanned skin and is really well pigmented.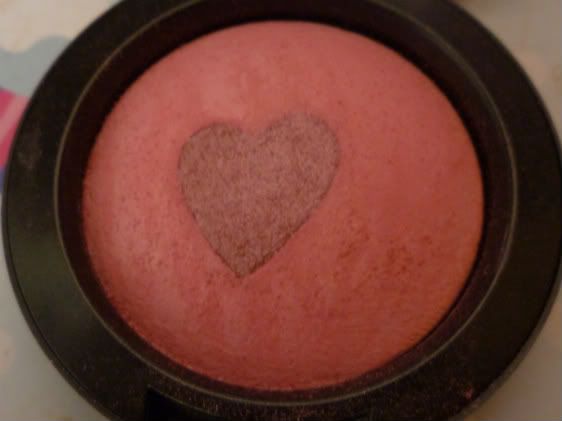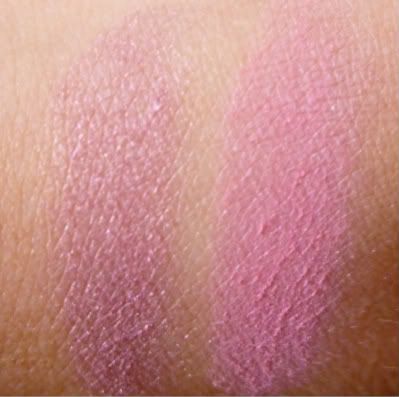 Left - Embedded Heart Right - Rest of Blush
I actually wore this blush last night and I took a photo to show you - I'm wearing my beloved Costa Chic on my lips!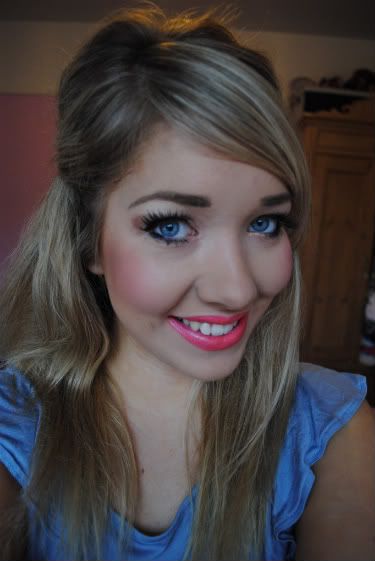 Overall I'm really impressed with the 'Quite Cute' collection and I'm really happy with what I got. My favourite thing has got to be the 'Candy Yum Yum' lippy though - although I can see me getting some stares when I wear it! I'll definitely be doing some looks/face of the days with these products so hopefully you can see what they look like on better! What do you think to the new collection? Have you purchased anything from it yet?