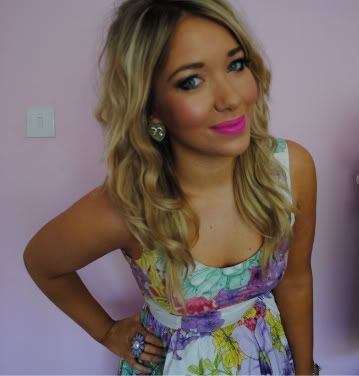 Happy Easter lovelies! I hope you're all having a fantastic bank holiday weekend eating lots of choccy eggs (my mum got me a Mini Egg one - SO happy). I've spent today spending some time with my family, eating a ridiculous amount of food and sunning myself in the garden with a glass of Ros

é - bliss. I thought seeing as it's Easter Sunday I'd dress up a bit, and found this dress sitting at the back of my wardrobe looking a bit neglected and thought 'Why not?!'. I actually got this from Internacionale (I actually HATE that shop with a passion - such bad quality, ick) a couple of years ago when I was struggling to find a dress to wear for a wedding. I spied this in there and had to get it - mainly because I love it but also because it was only £15 - and buy one get one free - resulting in me and my sister getting two dresses for £7.50 each - bargain! It has a really pretty open back with a bow which I probably should have taken a photo of but oh well! Yes, the quality of it isn't the best, but for the price I really can't complain! I really do think it's worth popping into shops you wouldn't usually venture to every now and again, as they really can surprise you. The shoes were another bargain (got them for a fiver in the Office sale a while back) and I love them. Not entirely sure how well they go with the dress but they have a cute little heel so I really wanted to wear them.
The lipstick I'm wearing is my beloved Candy Yum Yum by MAC - such a beautiful, bright colour - perfect for summer! I really wish I'd bought 2 of these instead of getting Playing Koi as well - I really can't get it to work for me!
How have you all been spending Easter Sunday? Eating lots of chocolate I hope! I'm going to dig into my Mini Egg easter egg now - omnomnom!