Hi everyone, I hope you're all well - the weekend is finally here! Hooray (or not so much as I have work tomorrow, boo!) I've been having a lazy day today, not doing a great deal - the weather has been absolutely horrendous so I've been staying inside and hiding from the horrible rain. I was bored this afternoon and decided to brighten today up by having a go at some floral nail art. I've been scouring through Tumblr and Weheartit for nail art and I'm in awe of the beautiful creations so many people have done; I wish I was half as good as them! Nonetheless, I thought I'd give it a whirl myself, after seeing a few floral designs that caught my eye, and didn't look TOO complicated.
After much deliberation on how to go about creating my floral design/which colours to use, I settled for these: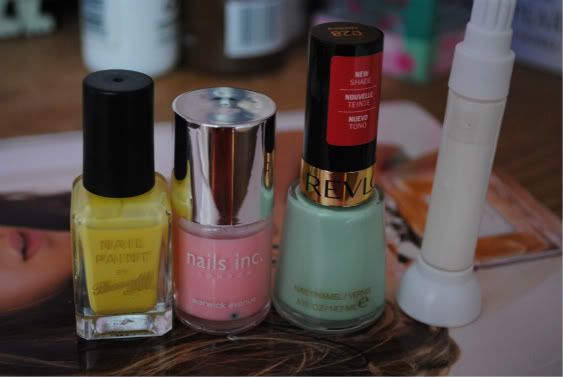 Barry M in Lemon Ice Cream, Nails Inc in Warwick Avenue, Revlon in Minted, Models Own WAH Nail Art Pen in White
I used the yellow as a base coat (which took about 3 coats, sigh) and then popped some thin pink splodges at random places on each nail. The key is to make them thin - if you put too much polish on they will look thick and stick out (I made this mistake on my thumb, oh well). Once that had dried (and looked very Mr Blobby-esque) I used the brush on the nail art pen to add some white over the pink splodges, making them look a little more rose-like. After that I used the green to create some leaves around the roses, basically trying my best to make them look leaf-like but it's okay if they don't turn out perfect. Here is the result....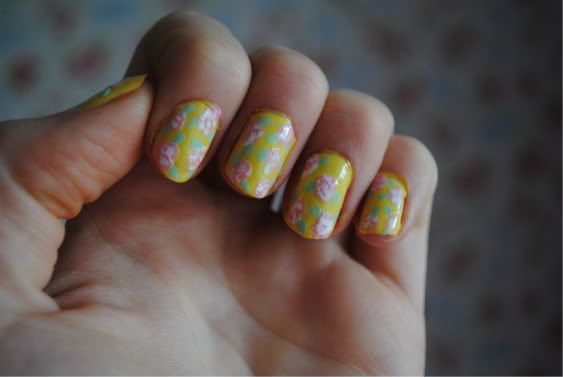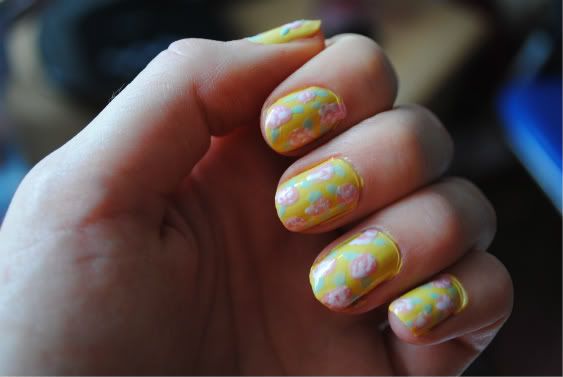 I really, really love how they turned out. I am by no-means any good when it comes to nail art (I have really shaky/clumsy hands and a tendency to make a big huge mess) but I think this was simple enough for me to muster. It's definitely not perfect but I think it does look really pretty. You just have to be patient and remember not too apply too much polish, and you should find yourself really pleased with the results. I'm definitely going to be doing this lots from now on, and can't wait to play around with colours etc.
I have no idea who first thought of 'floral nail art' but I fully credit whoever it was, as well as all the lovely nail designs I found through Tumblr and Weheartit, as florals make me very, very happy.
What do you think to my floral nails? Will you be giving this a go?