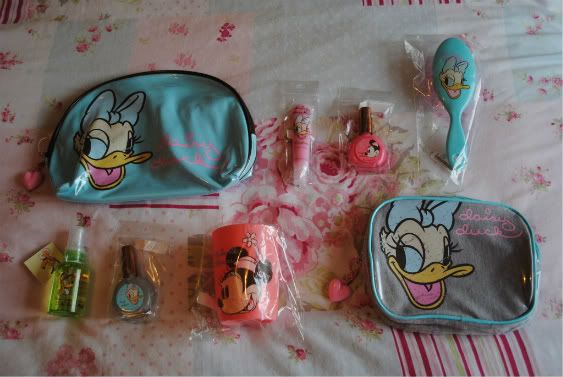 Anyone who's been reading my blog for a while will (hopefully) know that I am an avid fan of Disney. I'll admit, I'm a big kid at heart and adore anything related to those lovable children's films. I'm also a big fan of H & M, so when I was shopping in there the other day and I spied a great big pile of Disney-related toiletries and cosmetics, I have to admit, I went a bit crazy.
In all honesty, I 100% believe if I could I would probably end up spending the majority of my monthly wage on the beautiful bits and bobs H & M has to offer, in the form of toiletries and make up. As I don't have a H & M near me, I always, without fail, end up purchasing several of their cute and kitsch goodies when I happen to stumble across one whilst shopping. I adore their selection of Hello Kitty make up bags, shower gels, lip glosses, eye shadows - and I would happily purchase them all if I didn't think it was perhaps ever so slightly excessive. They also regularly stock Snoopy, Betty Boop and Disney-themed goodies, however I'd never really come across a Disney range as big (or as cute) as this. Needless to say, I couldn't resist.
They had a sweet little selection of Minnie Mouse and Daisy Duck themed goodies, a long with (randomly) Pluto thrown in. I just HAD to get both Daisy Duck cosmetic bags (I love Daisy Duck, but they did pink Minnie Mouse versions too), a Daisy Duck hairbrush, lip gloss and nail polish, along with a Minnie Mouse nail polish (which is a BEAUTIFUL colour) and Minnie Mouse cup (random but pretty). I also spotted a cute little Pear Sorbet body splash with Pluto's face on and couldn't resist that either. Excessive I know, but I LOVE everything I got and a part of me wishes I'd bought more (ridiculous, I know).
What do you think to H & M's toiletry/cosmetics ranges? Do you like my Disney goodies?