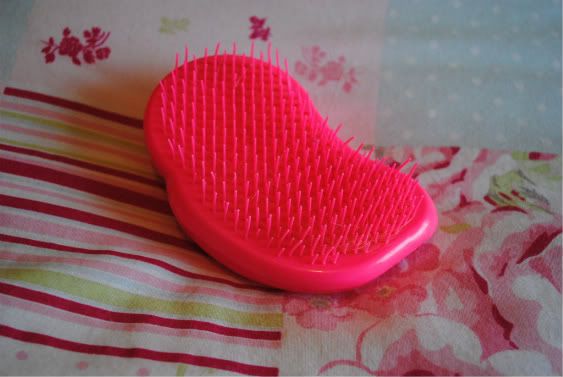 I'll be honest, I've always had very, very knotty hair. I'm not one for spending hours detangling knots (it would take hours on my hair, I assure you) and would much rather spend 3 minutes giving my hair a quick brush than 10 trying to make it look immaculate. I also have my hair highlighted regularly, which means it isn't in the best condition, and therefore only gets knottier. I've actually been embarrassed on several occasions when at the hairdressers, as my hairdresser has to spend a good ten minutes battling with my knotty hair before even attempting to slap some dye on it.
Recently it had become a bit ridiculous; after showering my hair would be a huge tangled mess, and had these awful matted knots at the back which were a complete and utter nightmare to diminish. I would spend forever combing through my locks, losing quite a lot of hair in the process, and I don't doubt damaging it a great deal. I knew something had to be done; I have a lot of hair and it takes long enough drying it, never mind spending time untangling. Therefore I decided to bite the bullet and purchase a Tangle Teezer. I had seen them on several occasions in my local Boots and Superdrug, and had heard the rave reviews, but thought shelling out a tenner on a hedgehodge-esque brush was a tad excessive. I did, however, think it MUST be worth a try so I used my Boots points and got myself a shiny new pink one.
Quite simply; I love it. On first use I was shocked at just how easily my hair was untangling when wet. Usually it would take me forever but in two minutes I was good to go. I couldn't believe it, and have been using it religiously ever since. It is just amazing at getting knots out, and saves me so much time after washing my hair. It also saves my poor locks from all the damage I had previously been doing through combing it so vigorously, and my hair honestly feels in the best condition it has in ages, and has grown SO much in the past few months. I love it and couldn't imagine being without it. If you have really knotty hair and struggle when it comes to combing it, you really can't go wrong with this. It's also pretty good at back-combing, which is always good!
Have you got a Tangle Teezer? What do you think to it?