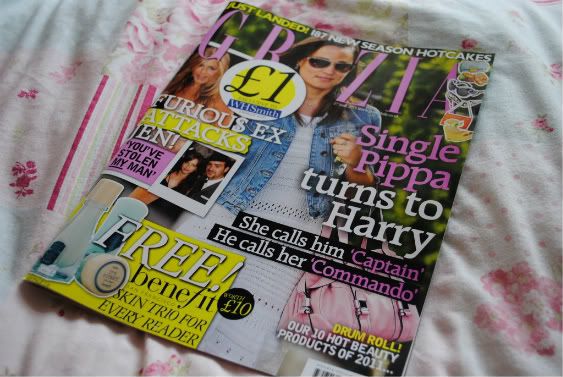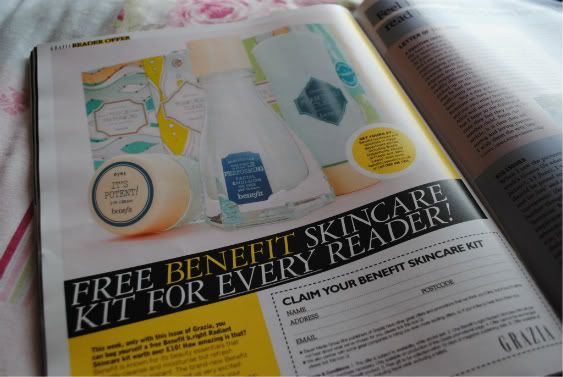 I know, I know - I've been completely AWOL the past few weeks. If you follow me on Twitter you'll know why, but if not I am going to let you know all about it in an upcoming blog post. Today though, I simply couldn't pass up the oppurtunity to show you this fantastic deal. Well, not even a deal, but a full-blown FREEBIE - how fabulous.
If you're a regular reader of Grazia then you'll probably already know about this - but for those that aren't this week Grazia are giving away three of the Benefit b.right Skincare products. You get a free 'It's Potent' Eye Cream, a free 'Triple Performing' Facial Emulsion and a free 'Foamingly Clean' Facial Wash. Amazing right?! Obviously they're not full size products (according to Grazia you get a 8.9ml Facial Emulsion, 8.9g Facial Wash, and a 3g Eye Cream - basically they're mini bottles) but considering I was about to spend a tenner on the Mini set from Asos (which has since sold out, booo) I think this is a great deal.
I've not tried the products but have wanted to forever so will definitely be snapping one of these up! To be honest even if the products aren't that great I am all over the amazing packaging! To claim the freebie you just take the page into your local Benefit counter (be it Boots, Debenhams etc.) and hope to GOD they have some left in stock. I'm planning on going to get mine next week and there will HELL to pay if they don't have them. I'm predicting they will go pretty soon (anyone remember the free Origins deal!?) so get in there fast!
ALSO - If you get your Grazia from WHSmith it 's only £1 this week! Go go go!