Hi everyone! I can't believe how hot it's been today. Like seriously, sizzling, cold shower hot (I actually just had a cold shower - THE most amazing feeling after being in the sweltering sun all day!) I've spent my day lazing in the sun and trying (and failing) to cool down. I think it was about 30 degrees today, which is the hottest it's been here in a very long time. This afternoon I decided enough is enough, we NEED to buy a paddling pool (so what if the heat is only here for two days) so went and got this baby. It's a really good size and I'm hoping tomorrow will be just as hot so I can put it to good use!
Anyway, as the sun was shining I decided to go all out on the summery hair and make up-front. Summer make up is my absolute favourite; I love creating gorgeous, dewy, glowy looks for myself, and slapping on the fake tan always makes me feel better too! As for summer hair; I'm all about loose waves and pretty plaits, and don't think you can ever go wrong with a floral hair accessory.
Here's my look for today -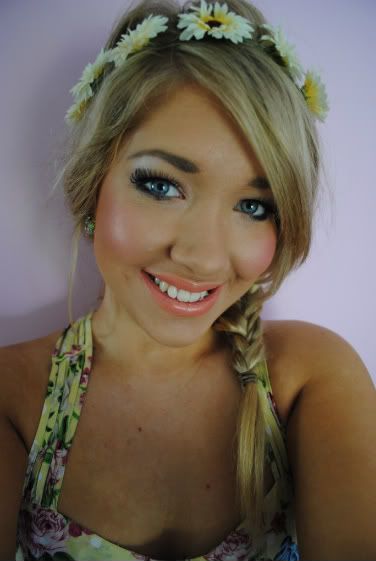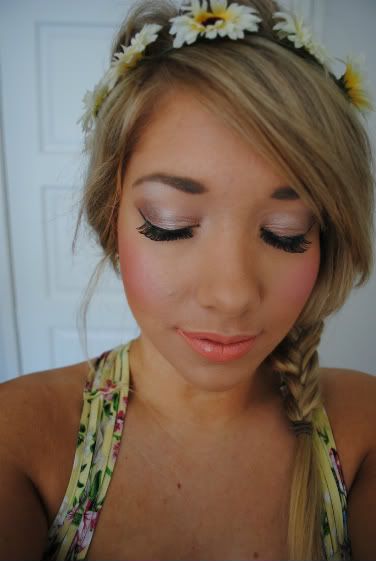 Face: Revlon Colorstay Foundation in Sand Beige mixed with Maybelline Sun Glow Bronzing Booster Make Up in Bronze, MAC MSF in Golden Lariat, W7 Blush in Diamond Pink
Eyes: Urban Decay Eyeshadow in Sin all over lid and Sidecar in crease, Collection 2000 Fast-stroke Eyeliner, Boots Eyelashes in Natural Volume
Lips: YSL Rouge Volupt in #30

In all honesty I couldn't really bothered to do much with my hair today, so thought a simple messy side-plait would suffice. I'm absolutely rubbish when it comes to doing neat plaits, so will always embrace the messiness. I added the cute floral headband from Primark to prettify it up a bit. As for make up, there's nothing too far from the ordinary here, apart from adding a bit more highlight than usual to make myself 'glow'. The blush and bronze I used were also quite shimmery so they add to the whole glowy effect.
What did everyone get up to in the sunshine today? I hope you all had a fab weekend!