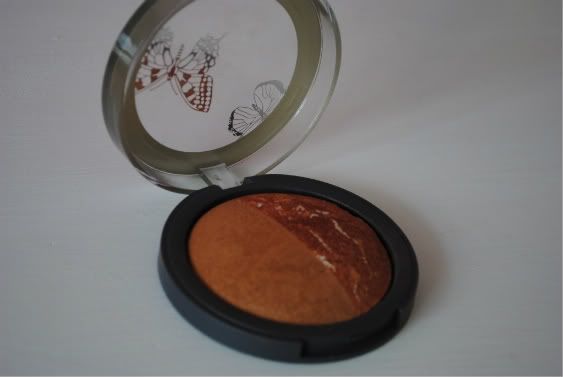 If you've been following my blog for a while now, you'll know I'm a massive fan of the Accessorize make up range. When it first launched a while ago, I went a bit mad buying things because they all look so pretty - the mineralize products are honestly to-die-for, and the packaging is seriously beautiful. The only problem was, I struggled to find anywhere that stocked the range, other than online (selected Superdrug stores do stock Accessorize cosmetics apparently, but I've never found one) and I am such a stinge when it comes to paying for delivery. Therefore I hadn't bought any of their products since.
However, when I popped into Accessorize last week, to have a little look at the sale, I saw that my local Accessorize now stocks a small selection of the make up range, hooray! They had a few eyeshadows, blushes, bronzers, lipsticks and nail polishes, as well as a few other bits and bobs. The thing that immediately caught my eye were the baked bronzers - my last Accessorize bronzer (shade California) is one of my all-time favourites, but unfortunately I dropped it on the floor a while ago, and only a few dusty fragments remain (sob!). The bronzer I picked up is one of their new 'duo' bronzers, with half the pan a very shimmery, marbled bronze and the other a smoother, lighter shade. The shade is 'Bali' and I absolute love it so far. The marbled side is a gorgeous, light shimmer that I love - it's not too glittery but leaves enough shimmer to give you that all-important glow, whereas the other side is a beautiful, buttery-soft light bronze. It's actually a fair bit lighter than I first thought, but when they're both swirled together it creates a gorgeous finish.
I definitely don't think you can go wrong with Accessorize make up - their blushes and bronzers are to die for and are so cheap too - the bronzer was only £6 and I definitely think it compares to the likes of MAC and Nars. Definitely worth a look if you've not tried Accessorize make up before!