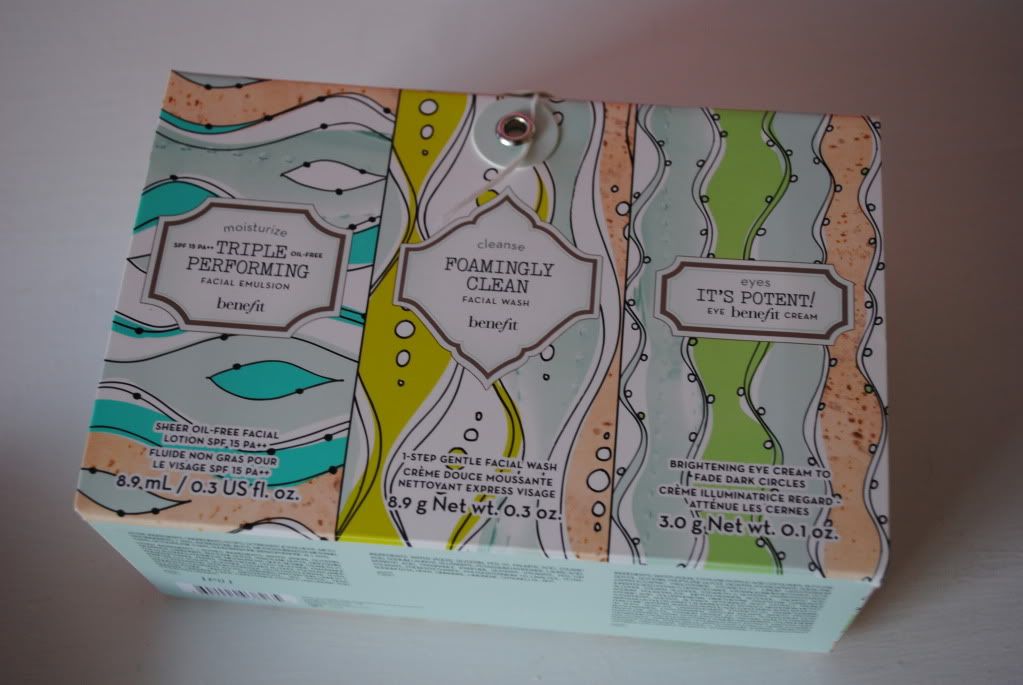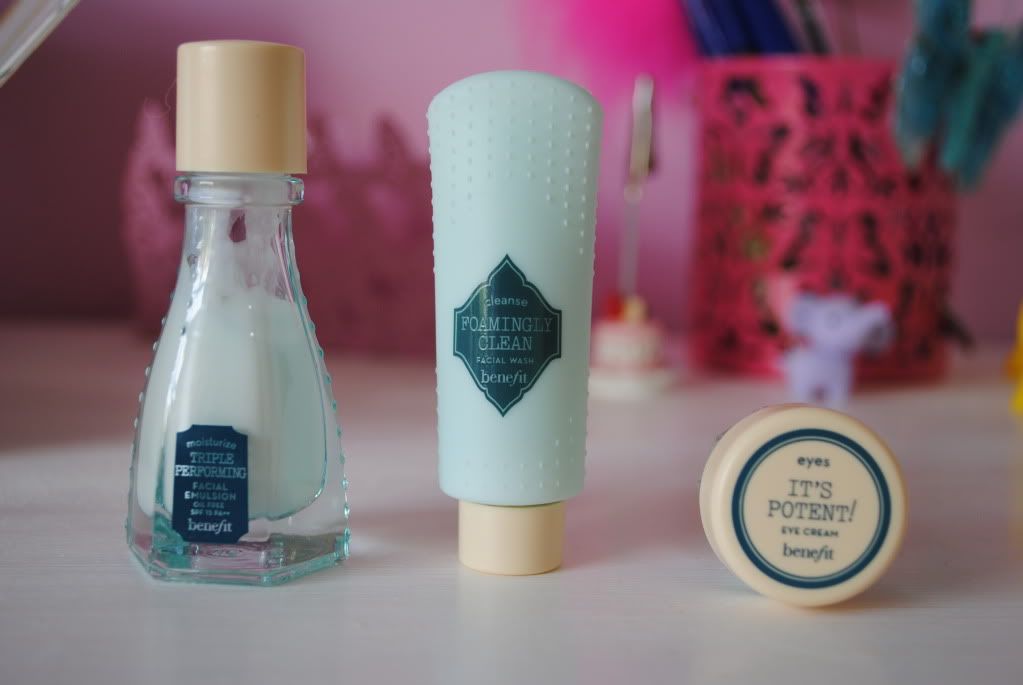 I just thought I'd do a little review of the new(ish) Benefit B.right skincare range. I got these three minis a while ago as a freebie with Grazia, and have been using them regularly ever since. I have to say, I'm pretty impressed. To be honest the thing that got me most excited when I first heard about them was the packaging. I just love having pretty products on my dressing table, and these are so cute in an Alice in Wonderland kind of way.
The products I got were the Triple Performing Facial Emulsion, the Foamingly Clean Facial Wash and the It's Potent! Eye Cream. They also do a toner, a 're-hydator', an exfoliator and another, richer moisturiser, which is targeted towards dry skin. I'll get straight to the point - I really do like the moisturiser. It smells divine, leaves my skin feeling soft and (I think - although it's sometimes hard to tell) it keeps my oil at bay. It's very light and fresh-smelling, which I like. It's also SPF 15, which is really good. I'm also a fan of the cleanser - it only takes a tiny bit and it foams up on your face like a treat, getting rid of impurities and, again, leaving your skin feeling soft and smooth. I'm not really a fan of wash cleansers as a whole (I prefer a cleansing milk, easier in my opinion) but this would be a great cleanser to use in the shower, or after using a cleansing milk to give your skin a really deep cleanse. As for the eye cream, in all honestly I've not really noticed a difference when using it, but I've tried several eye creams and never really notice much. Maybe it's just me, but all they tend to do is sting for a bit and that's it. This one is no different.
All in all, I'm impressed with Benefit's skincare offering but I am disappointed with the prices. The moisturiser comes in at a hefty £19.50, the cleanser at £16.50 and the eye cream a whopping £23.50. I know Benefit has never been the cheapest brand in the world but I think these would be better if they stuck nearer the £15 range, as if you were to buy all of the products you need to have a proper skincare routine it would cost you a considerable amount. Will I be purchasing any of the products? Well, I like the cleanser and the moisturiser, but I probably wouldn't unless I was looking for a special purchase. I think of the two I like the moisturiser best, but the price really does put me off.
Have you tried Benefits B.right skincare range? Do you think it's worth the price tag?