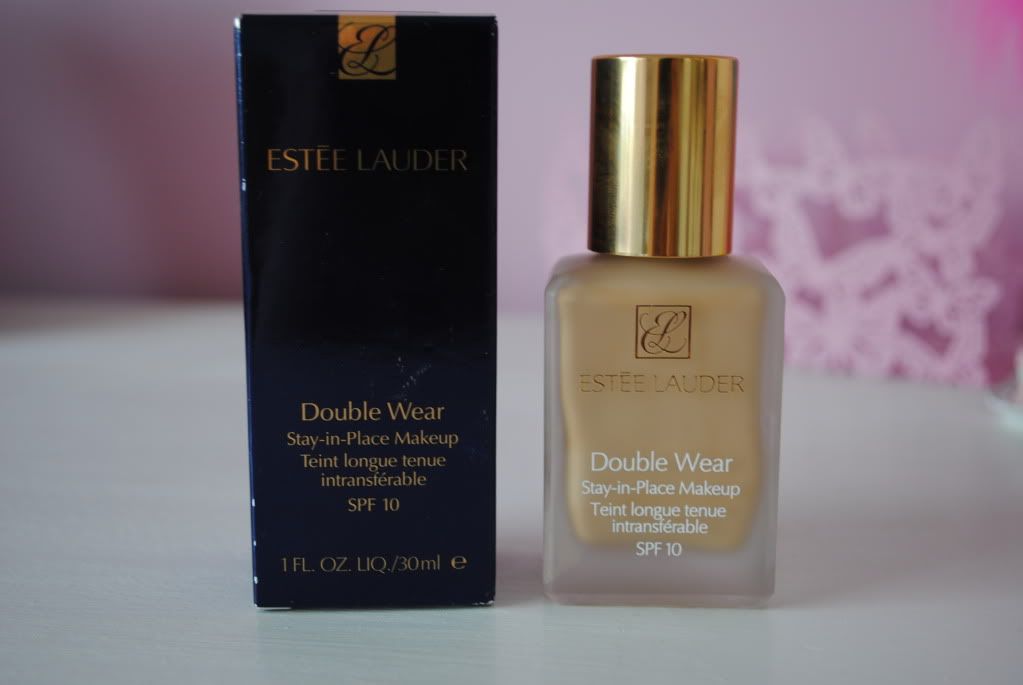 I thought I would do a review on one of my favourite foundations. Although we tend to have a love/hate relationship, Estee Lauder Double Wear was once my HG foundation and I still love wearing it today.
If you are looking for a foundation with amazing coverage, that leaves a matte-finish, doesn't transfer and lasts all day long, this is it. I've used this foundation on-and-off for years and it is by far one of the best foundations when it comes to coverage and longevity. Yes, it isn't the cheapest (it retails at £25.50), but it is easy to apply, blends well and leaves my skin looking flawless. I'm someone who always looks for good coverage when it comes to foundation because my skin is just SO bad. I also love looking 'made up' - I know a lot of people prefer to look natural but I love looking like I have make up on. For anyone who suffers with acne, or has acne scars - this foundation is great because it has amazing coverage and is also oil-free.
However. There is a reason I no longer call this foundation my 'HG'. As much as I adore the way it looks, feels and covers on my skin, there is a serious issue when it comes to photographing this foundation. You simply cannot go anywhere near a flash with it. It creates the most awful, pale ghost face in ALL flash photography, that looks so unnatural and frankly, weird. I love to use fake tan and if I have any on it looks even worse - although the foundation looks lovely in person, when photographed I am left with an almost geisha-like mask on my face, and a tanned body. To be honest, I really think the fact it contains SPF is the reason for this. I know SPF can cause this chalk-white situation in photographs, so I'm guessing it is to blame. Which is such a shame, as SPF is important but so is being able to photograph nicely.
I will continue to wear Double Wear, on-and-off, because I love how it lasts, looks and feels. When it comes to photographing my face, however, I will steer clear because it is just not good enough. I prefer to wear Revlon Colorstay (another of my favourite foundations) when in photographs because, although it does contain SPF 6, it has never caused me any problems when it comes to flash photography.
Have you tried Double Wear before? Do you look for coverage when it comes to foundations, or prefer a more natural-look?