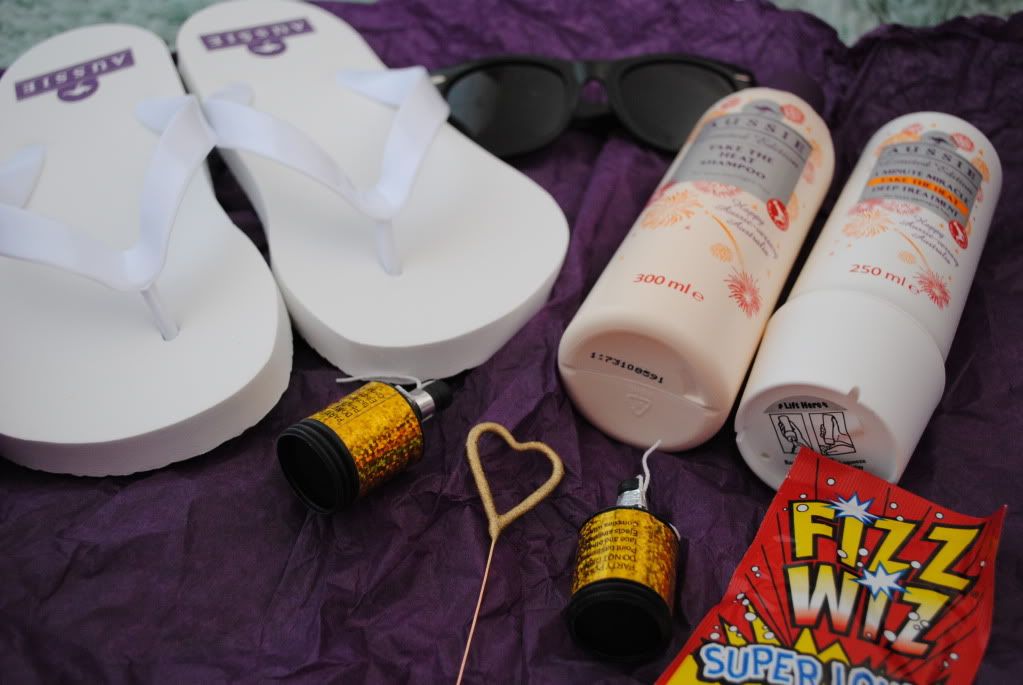 Hey lovelies! Recently I was invited to become an Aussie Angel, and absolutely jumped at the chance. I love the brand and am very proud they see me worthy of an Aussie halo!
Anyway, a couple of days ago I received a very exciting parcel in the post - Aussie are looking for us Angels to get partying, to celebrate their Aussie-versary (any excuse for a party!) and sent a package filled with party poppers, flip-flops, Fizz Wizz, sunnies, sparklers, and of course, the obligatory Aussie products to keep our hair looking party perfect. I was very excited opening the parcel, which came at the perfect time considering I will be celebrating my 21st birthday next weekend (party poppers and sparklers will be put to good use!)
The most exciting thing is, however, that Aussie are offering Summer Party Packs to SEVEN non-Angels, giving those that win the chance to try a product of their choice from any of the Aussie-versary Limited Edition ranges (the packaging with the fireworks on!) To enter, simply leave me a comment telling me what you'll be celebrating (it can be big or small, like I said, any excuse for a party), with your email address, and I will pick the best seven entries to win the party pack!
And what's more, the seven that win will also be given the opportunity to take part in a challenge, with the chance for one person to win ten tickets for them and nine other friends to Aussie's fabulous summer party in October. Aussie say it will be the biggest, most exclusive party yet - not to be missed! To enter, you MUST be over 18 years of age and a UK Mainland resident. For more details, and full Ts+Cs, please click here
The competition will close on Friday 19th August at 7pm, so get your entries in quick! Good luck! :)