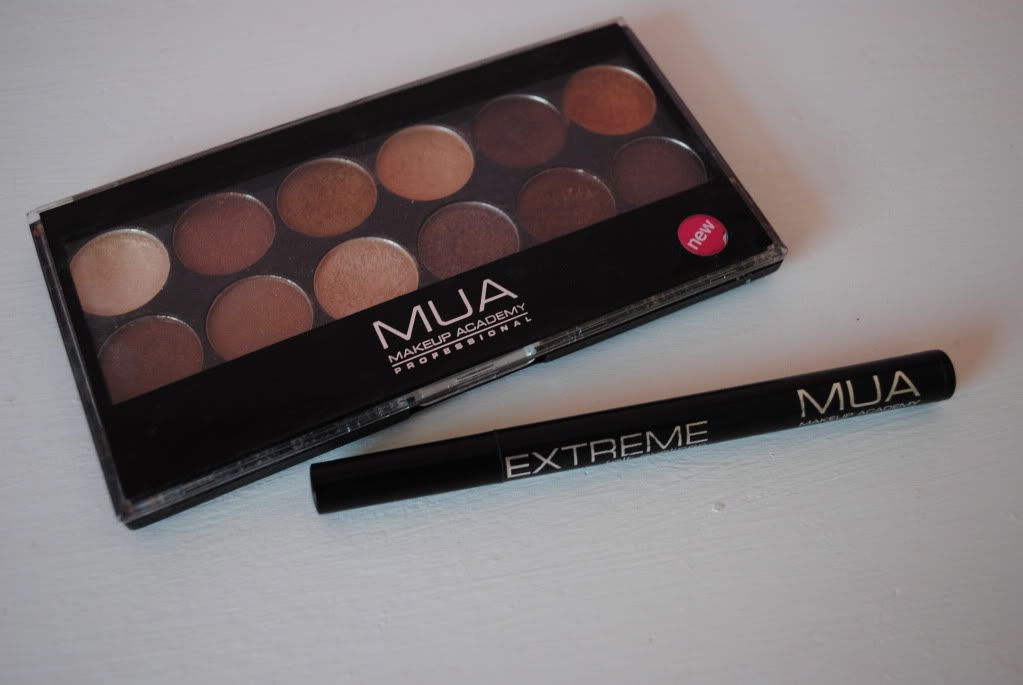 I've been aware of MUA ever since it launched a while back, but for some reason nothing ever really caught my eye. I'd swatched the single eye shadows and found them to be really pigmented, but never fell in love with one enough to bite the bullet and buy it. Which, quite frankly, is ridiculous, considering just how incredibly cheap these products are (most are around £1, with the priciest items being a mere £4).
However, around a month or so ago I spied their new eye shadow palettes. The 'Heaven and Earth' palette in particular caught my eye, as it is full to the brim with a gorgeous selection of neutral and natural eye shadows. At £4, I couldn't say no. I also decided to purchase their 'Extreme Felt Tip' eye liner, on a whim more than anything, as I was looking for a new eye liner and couldn't really complain for £2. I have to say, I am in love with these products. The eye shadow palette is a neutral girl's dream; it has gorgeous browns, golds and coppers, as well as some pretty champagne/peachy pink shadows. Almost all the shadows contain shimmer, which I love, and blend beautifully. They are very buttery soft and so sometimes can feel a tad delicate, but this only helps when it comes to blending them together. I took this palette away with me on holiday and had no need for any other eye shadow colours; this palette really has it all. I can quite honestly say I prefer it to my Urban Decay 'Naked' palette, which has been sitting gathering dust ever since buying this. I think whereas the 'Naked' palette is very ashy, almost grey-like on me, these colours are very golden and suit me really well. I. Love. This. Palette. If you are a fan of neutral shadows and don't have this yet - GO BUY IT. You will not regret it.
As for the eye liner, I've been using it every day since I got it and I really, really like it. It's not the blackest eye liner I've ever owned, but it is so easy to use and stays put really well. I love how precise the 'nib' is, making it really easy for me to create my 'feline flicks', something which other eye liners have made less than easy in the past. If you're a liquid liner novice, I'd recommend trying a felt tip liner first as they are so fool-proof and give the same effect as a liquid liner, without the difficulty. Overall, I love both products and will definitely be investing in more MUA in the future.
Have you tried MUA's products before? What did you think to them?
I have to apologise for the state of the palette in the pictures - I did try and clean it up, but I am the messiest person when it comes to make up, and as you can see, it's very loved! It does also come with an applicator but, of course, I've gone and lost that!