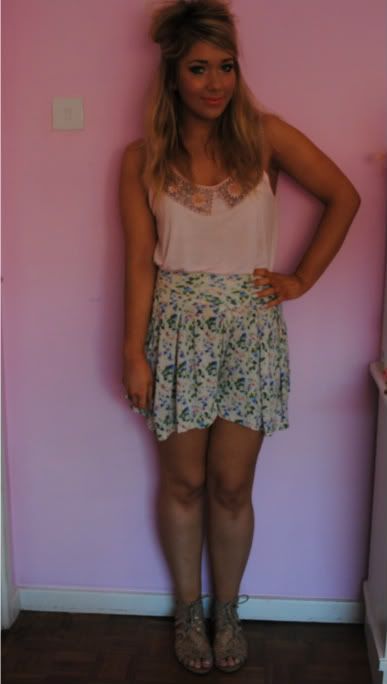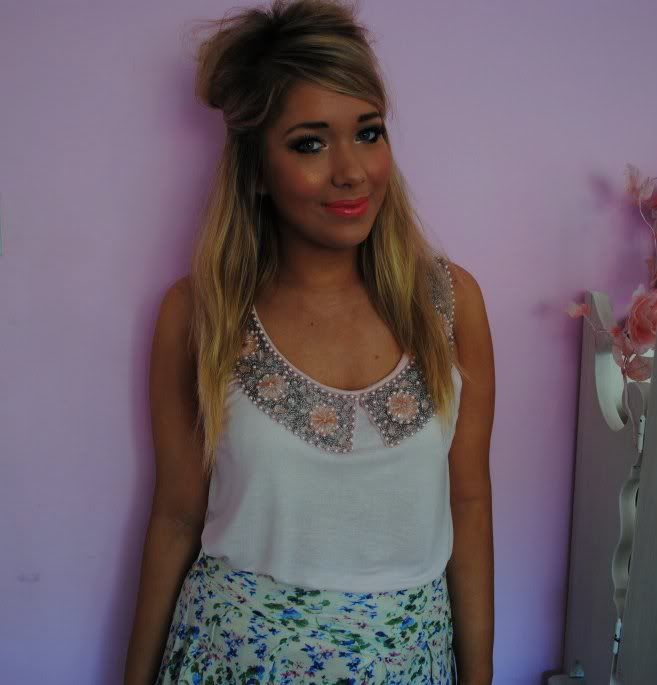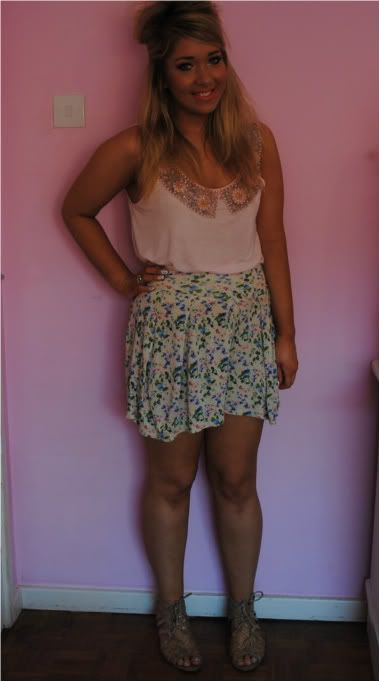 Firstly, I want to apologise for the awful quality of the top and bottom photos. I'm absolutely rubbish at taking outfit photos properly because I'm still a little bit iffy with my camera! It never seems to want to co-operate with me when I'm using my tripod, but I'm sure I'll get the hang of it eventually. Anyway, today was mega hot and I used this as an excuse to whack on some of my barely worn summer clothes. To be honest, when I first heard the weather forecast I was a bit annoyed; I've recently bought tonnes of new A/W clothes - I'm talking snuggly knits and lots of wine red hues - but none of these lovely items can be worn when the sun is out! However, I've decided this is the perfect opportunity to make the most out of the summer clothes I bought and barely wore because of our abysmal summer. Last night I whacked on some of my beloved St Moriz lotion (just before TOWIE came on, I have to be orange for that, obvs) in preparation for getting my legs out today. I seriously am still loving this tan, if you've not tried it go out and buy it now!
This week has been my first week back at uni, it's been really great getting back into the swing of things and seeing all my uni friends again. I'm a little bit apprehensive about the workload, and the fact it'll probably put blogging at the bottom of my priorities, but I'll see how it goes. I had a little browse whilst I was out today, and ended up popping into House of Fraser to the Chanel counter (as you do). I wanted to try out Chanel Mat Lumiere again, as I'm on the hunt for a new foundation and I know I really did quite like this when I tried it last time, but I want to be sure. The woman there was absolutely lovely, she couldn't do enough to help me, and I ended up walking away with the foundation sample, as well as a sample of mascara and sample of Rouge Allure velvet lipsticks, all in my very own Chanel bag! If you're anything like me you'll love a freebie, and love a free Chanel bag even more. I had a very big smile on my face walking out the shop, so thumbs up for the lovely Chanel lady!
Have you been enjoying the glorious weather today? Or are you ready for A/W?