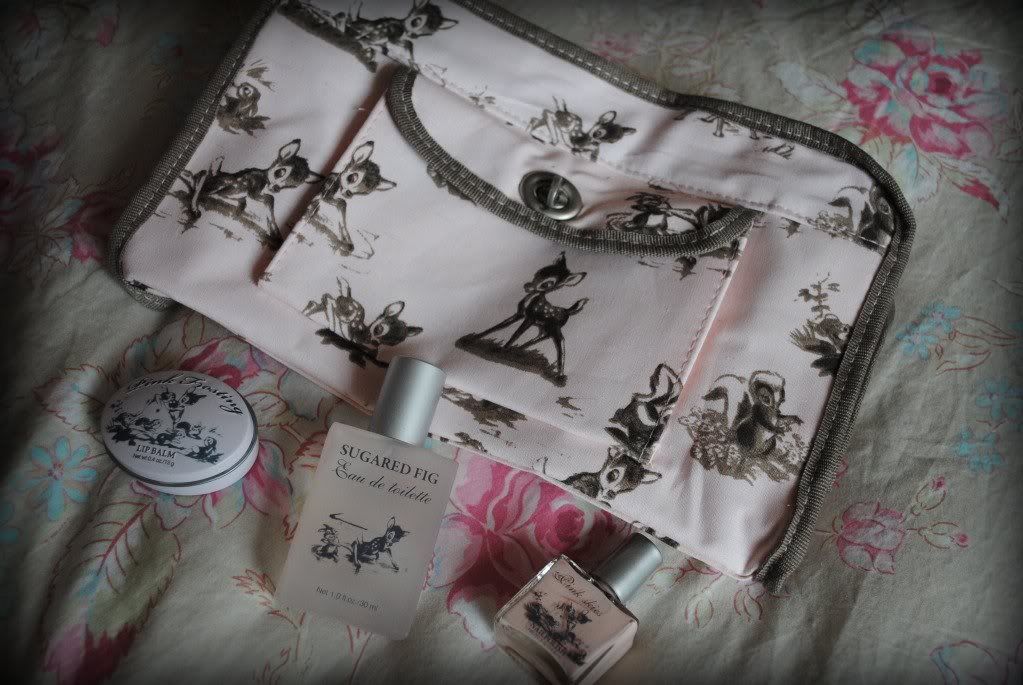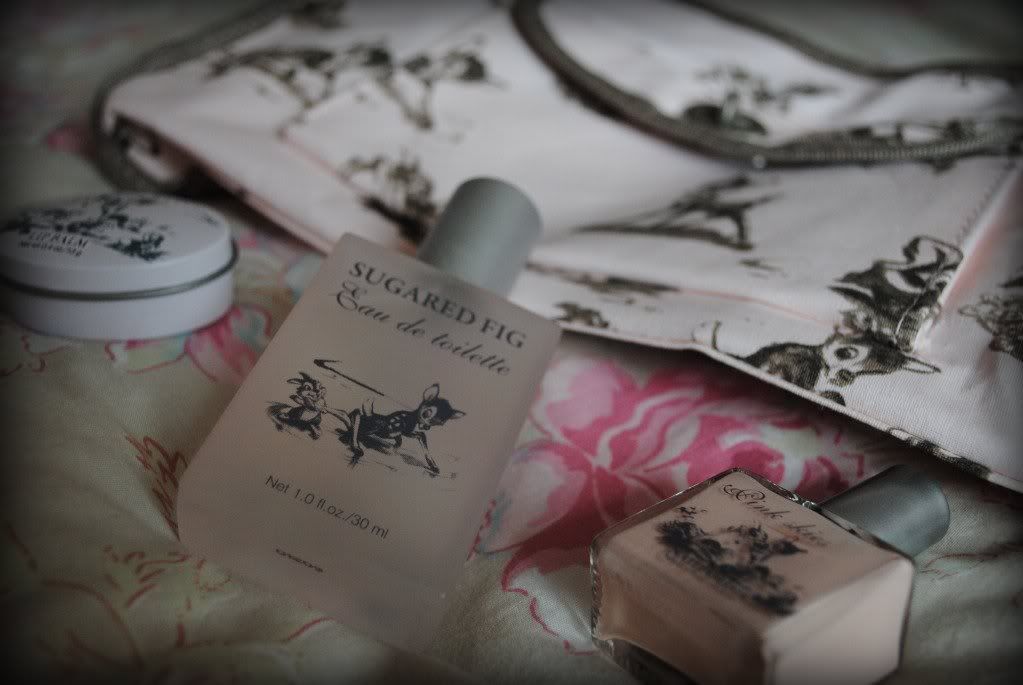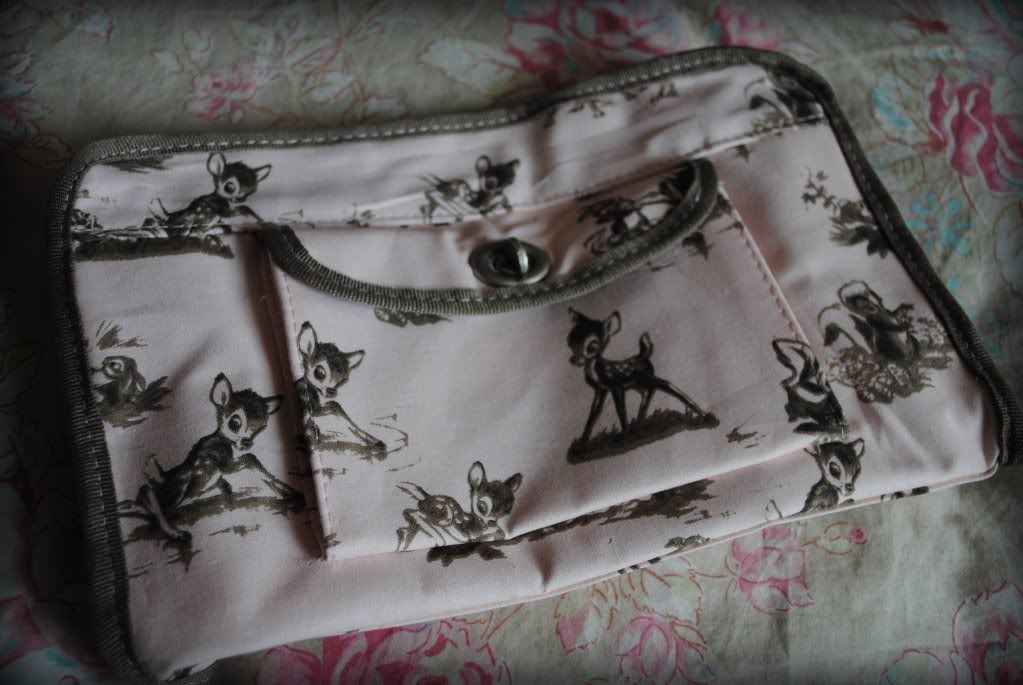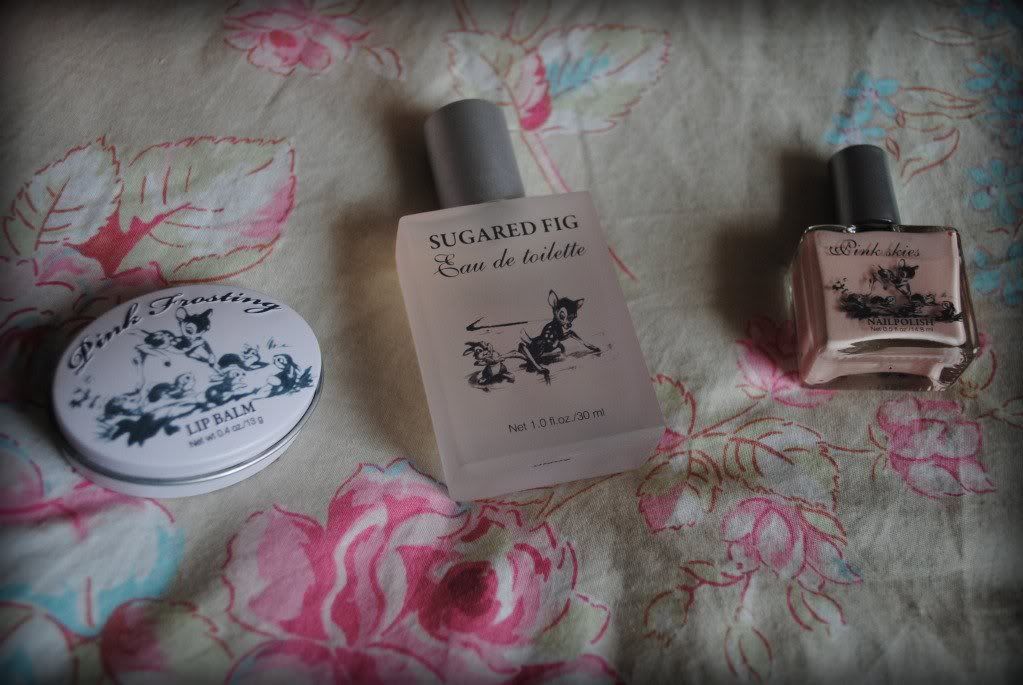 I took a trip to Meadowhall last week for an event, and of course I couldn't resist a look in H & M. Why? Well, I was after a new top (which I got) but also because whenever I am walking distance from a H & M I cannot resist going in, purely for a look at all the gorgeous smellies/make up/accessories they have. I posted a while back when I bought some cute Donald Duck and Minnie Mouse goodies from there, and when I saw an array of Bambi accessories last week I simply couldn't say no.
I bought several beautiful powder pink items; a Bambi cosmetic/wash bag with cute little illustrations of Bambi and friends, a pale pink 'Pink Skies' nail polish which reminds me of a Topshop colour I've been coveting recently, a 'Pink Frosting' lip balm which was completely unnecessary but nevertheless I needed it, and finally a 'Sugared Fig' perfume which I think smells so nice. As always, I wish I'd bought more, but I'm really happy with what I got. I just can't fault H & M for it's pretty Disney goodies, and these beauties will look lovely sitting on my dressing table (and will be put to good use, of course!)
I know I really need to stop with my obsessive-H & M-completely-unnecessary-make up-bag-buying but sometimes it's just too hard to resist! I adore all things Bambi and these beauties melted my heart as soon as I saw them.
Do you find it difficult to resist H & M's pretty make up and accessories?
Also thought I'd let you know about a code for H & M I got sent an email about earlier; it's for 50% off ONE single item online. The code is 9536. I don't think it's valid on reduced items but it's definitely worth a look! H & M can be dodgy when it comes to delivery but I thought I would let you all know anyway.