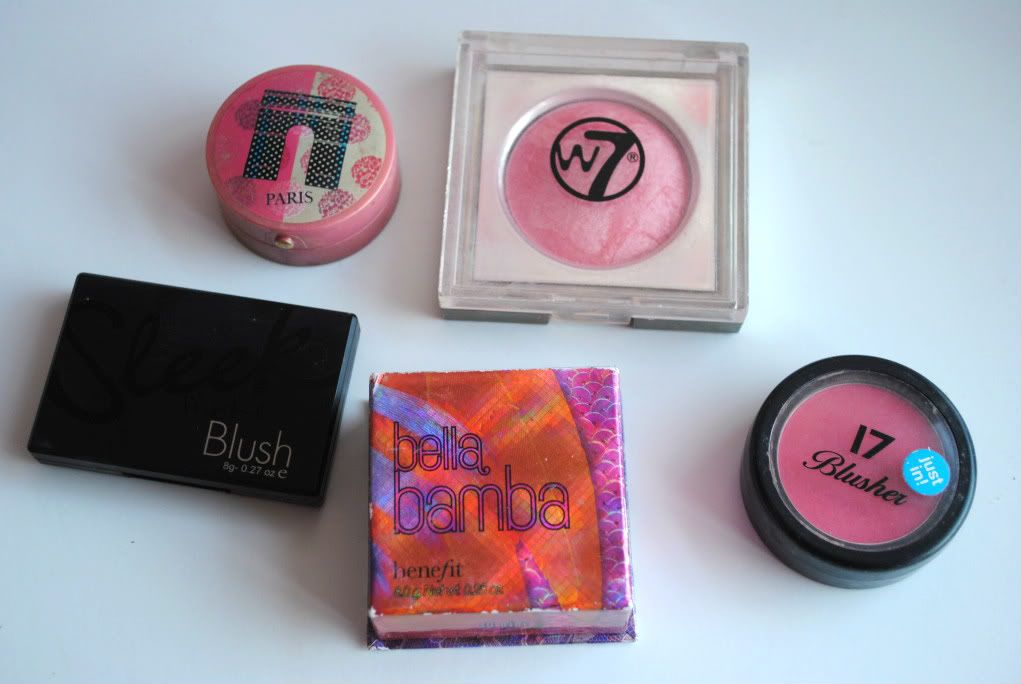 Sleek blush in Rose Gold, Bourjois blush in 33 Lilas D'or , W7 blush in Diamond Pink, 17 blush in First Flush, Benefit blush in Bella Bamba
Thought I'd do a little post on my favourite blushes/bronzers as I really like reading these sorts of posts! I'm the kind of person that, if I find a product I love, I stick with it. That doesn't mean to say I don't have a fair few favourites though, so I thought I would show you them.
First up - blushers. I adore blushers and I've definitely built up quite a collection of them over the years, probably even more so than bronzers (shock horror!) My ultimate favourite at the minute is the 'Rose Gold' blush by Sleek. I actually won this a while back (along with lots of other Sleek goodies) on one of their Facebook competitions, and I was so glad I did as it's a blush I'd always wanted to try and I absolutely adore it. I know it's been touted as the 'dupe' for Nars 'Orgasm', as it is also a gorgeous pink, with flecks of gold shimmer. It applies beautifully and I really can't fault it. The first thing that drew me to the Bourjois blush was the packaging, it's so pretty! Nevertheless, the blush itself is also divine. It's a gorgeous, shimmering pink that I think would work with any skin tone. The W7 blush is very similar, although it's a slightly lighter pink and the shimmer is definitely not as fine. Some people probably wouldn't like this one, but if you like a bit of 'sheen' with your blush then it's definitely worth a try. So cheap too! I had a love affair with the 17 'First Flush' blush over the summer, it is a beautiful, matte, bright coral-pink that looks great with a tan. Perfect for summer time. Finally, my one and only Benefit blush, Bella Bamba is again, a gorgeous shimmering pink, which applies really well and smells of strawberries. Yum!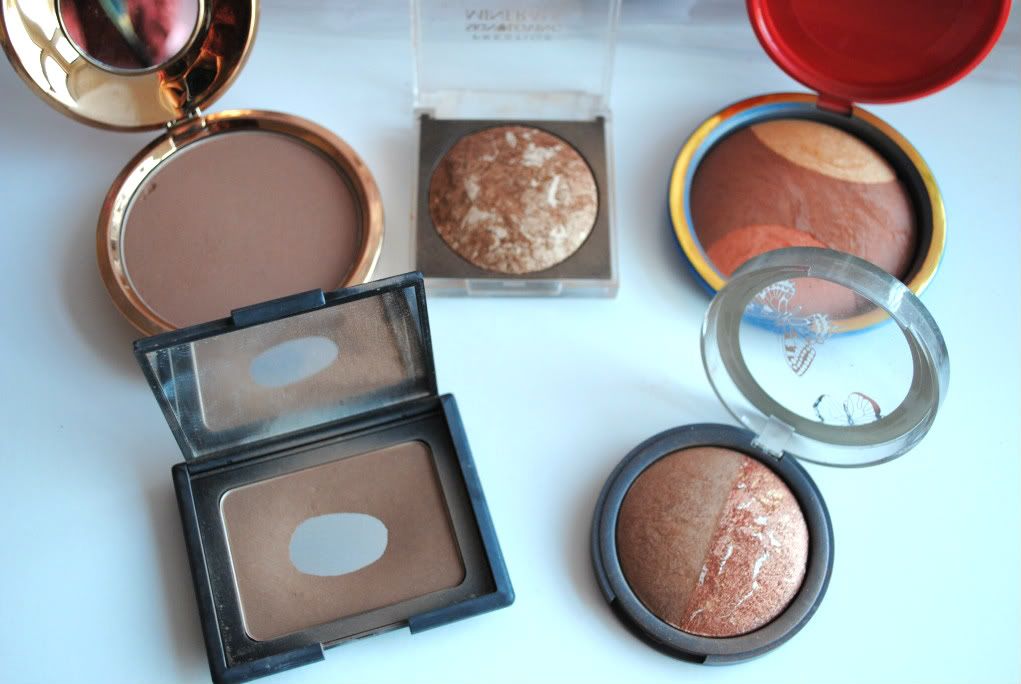 H&M face & body bronzer, Prestige Cosmetics bronzer in Glam Tan, MAC WW MSF in Golden Lariat, Accessorize bronzer duo in Bali, Nars bronzer in Laguna
I love having a tan, and, as you can see, I love both shimmery and matte bronzers. The first one is actually by H & M, and is in a huge pan, meaning it should last me a good while! It's matte and a very similar colour to Nars Laguna (pictured), so will probably be my go-to when my Laguna runs out! The only problem is it's so big so not the best to carry around. Next up is Prestige Cosmetic's 'Glam Tan', a very shimmery, mineralized bronzer which is a gorgeous shimmering gold when swirled together. MAC'S Wonder Woman MSF in Golden Lariat is such a beautiful, again shimmery, bronzer, with three different sections that look great mixed together. I wore this a lot over the summer - I think it looks amazing with a tan but probably won't suit paler skin tones. Accessorize's duo bronzer in Bali is lovely - one half is a semi-matte brown with hints of glitter, whilst the other is similar to the Prestige bronzer in that it's a shimmery mix of gold and brown, but is probably even more shimmery than the Prestige offering. Finally, my favourite of all the bronzers - Nars Laguna. I know everyone loves this bronzer but I can definitely see why - it is the perfect matte brown and is so flattery and easy-to-wear. I absolutely love it, and definitely think it's worth purchasing if you're after a really versatile bronzer.
What are your favourite blushes/bronzers?