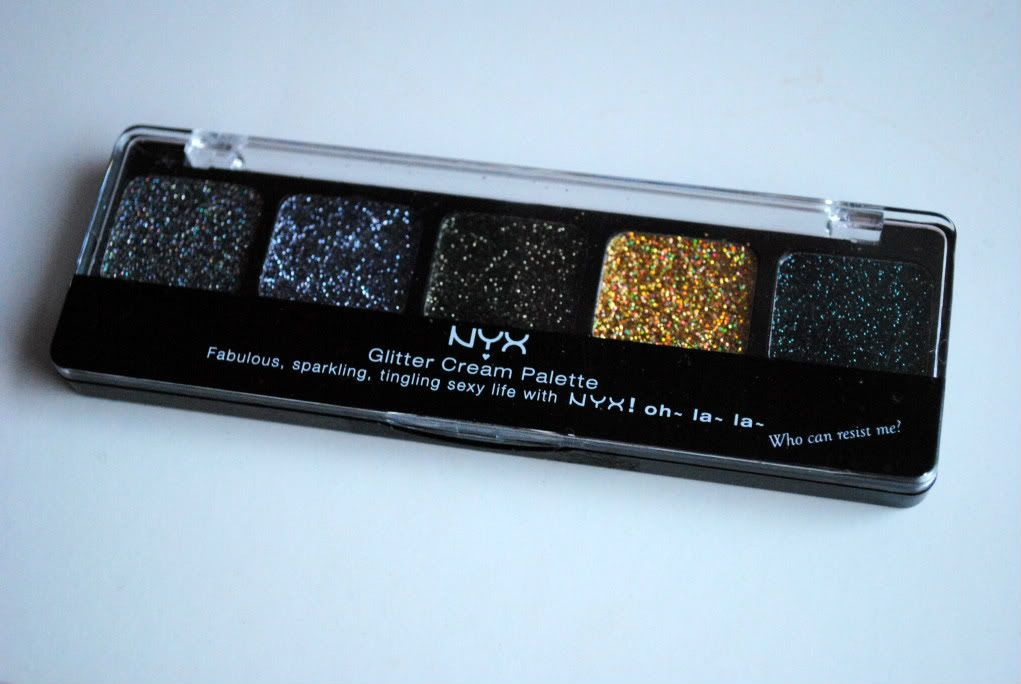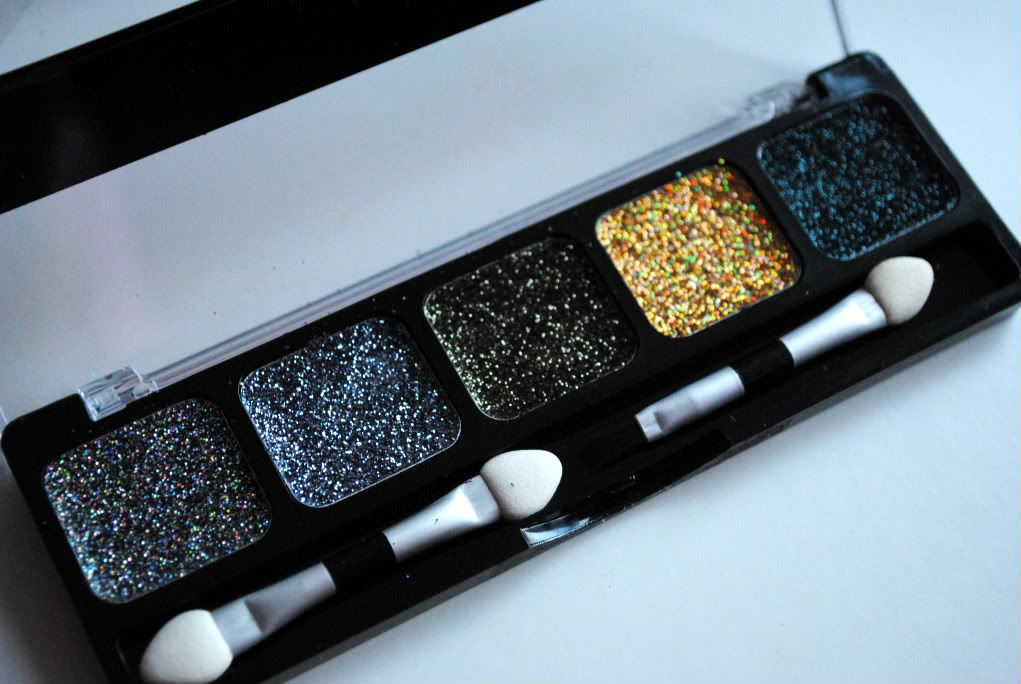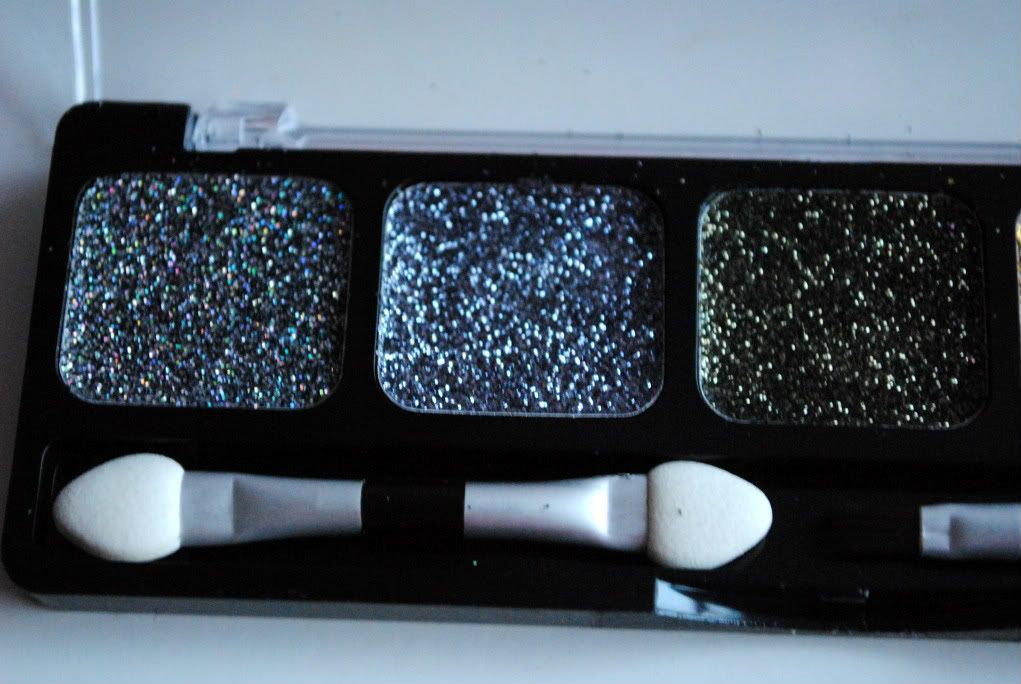 A few weeks ago I was perusing my local River Island when my magpie-eyed self was immediately drawn to a sparkly corner of the shop, where dozens of glittering eye shadow palettes sat winking at me. There was a huge, multi-coloured, almost fantastical palette, which containeda plethora of pinks, greens, blues and yellows. My hands were drawn to this one straight away, but I refrained, realising that I very rarely go for bright colours when it comes to my eye make up. Then, however, I spied a rather more subtle selection of sparkling blacks, silvers and gold in a much smaller palette. I'm not usually one to go for dark eye make up, but I'd been itching to experiment with a dark smoky eye, so thought, why not attempt a dark sparkly smoky eye? After all, you can never have enough sparkle.
I used the in-store tester to see what the pigmentation was like and was really impressed, so I happily parted with £6 and bought myself the NYX Glitter Cream palette. I knew I would have to have a practice go before attempting a proper 'look' with it, so set out by priming my eyes/applying a base etc. in the hope that I would soon be transformed into a sparkly-eyed temptress (the packaging does clearly say, 'who can resist me?' so I presumed that was the effect it would have, silly me). I've used glitter eye products in the past and have been suitably impressed with them, and although this was a cream palette (something which usually fills me with dread) I felt reassured by the fact I had tested it in store and had been pleased with the results.
I'll be honest, I was a little confused as to what I should use to apply the shadow - I played about with the applicators the palette came with, but ended up using my fingers in the end as it seemed to make the shadow apply a bit smoother. Upon first application, the glitter is thick, really sparkly, and you think 'wow, this is going to be good'. However, you need to use LOADS to cover your eyes and, unfortunately, the really sparkly glitter is sneakily only really apparent on the top layer. Once you get past the initial 'WOW GLITTER' stage, underneath is a mix of a Vaseline-like substance with glitter here and there. I can't really describe what the effect was like but it wasn't pretty; my eyes looked a complete mess. I tried and tried to work with it but it seems you get more Vaseline than you do actual glitter. I've taken some pictures so you can understand better what I mean.
These swatches are what the glitter top-layer looks like. Unfortunately they're not like this throughout!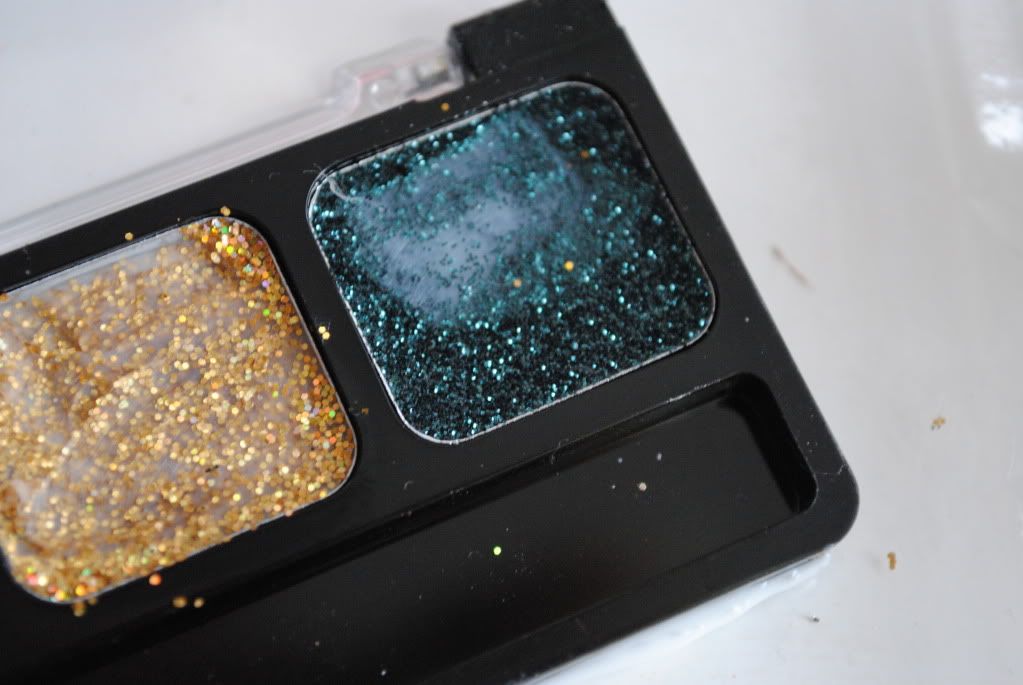 Looks nice and glittery around the edges (top layer) but inside it's just a nasty Vaseline mess
See what I mean? Not pretty.
I'm so, so disappointed with this palette. I had high hopes, considering NYX is a big brand and from testing the product in the shop I thought I was on to something. However, this product is just (in my opinion) pretty awful. It is definitely not for use on the eyes - and I'm not entirely sure where else you would really want to use this product? The top layer is nice, but you need a lot of product to get a really 'wow' eye-look and there just isn't enough of that top layer to achieve that! I've never, ever had such problems trying to apply a product and my eyes just looked a complete mess after using it. Definitely would NOT recommend and I feel I've wasted £6 on this, as I really won't be using it again!
Have you tried the Glitter Cream palettes from NYX? What did you think?