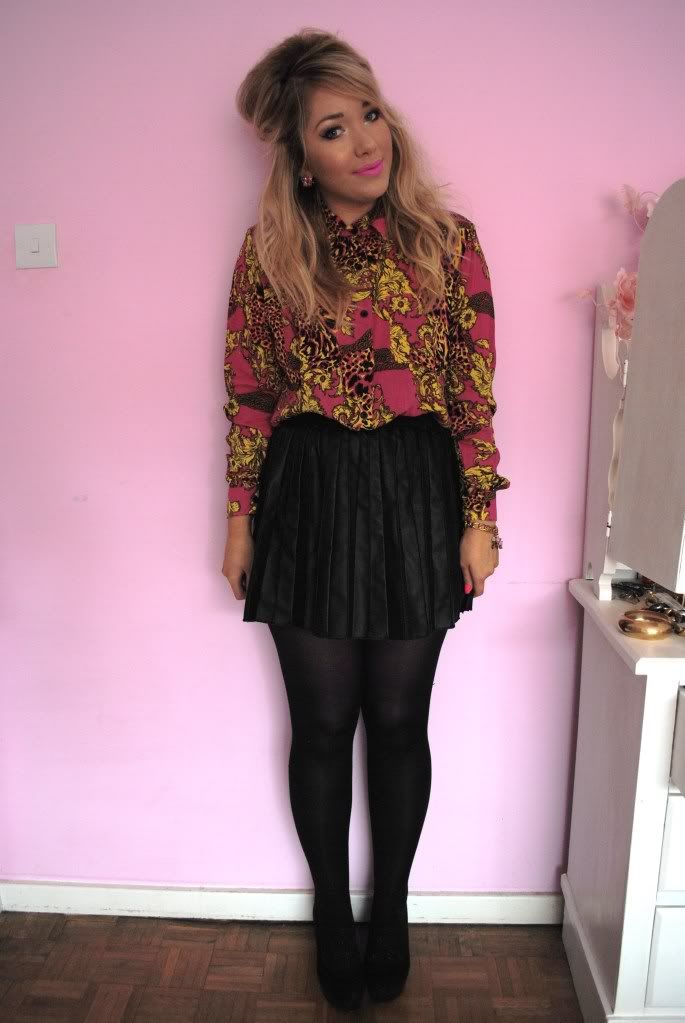 Just a little outfit post for you all, I'm getting really into posting them at the minute! I was sent this beautiful Motel shirt a bit ago and I'm seriously in love with it. At first I couldn't decide if the baroque print was ugly or gorgeous, and I've decided it's most definitely the latter. I actually wore this yesterday and felt amazing in it, I was very 'pretty in pink' with matching nails and lipstick (you can never have too much pink!) I also think it goes so well with my trusty Primark faux leather skirt, this skirt is seriously so versatile, I'm so glad I bought it!
I ordered some flatforms from H & M a couple of weeks ago after seeing them on a fair few blogs, and I can't believe I haven't worn them sooner. I'm a size seven in shoes and these were certainly a squeeze (my mum said they make my feet look tiny) but I think they make my legs look really long (trust me, they're not) and I like how the platform isn't really high so I can wear them day to day. A bit gutted I can't really wear them out at the minute with the slushy remains of the snow, but hopefully they'll get a proper outing soon!
I entered Company's Casting Call competition yesterday on a whim, it would be amazing if you could 'like' one of my pictures for the chance to be in Company magazine (my favourite magazine in the world) or go and enter yourself if you like! I'm all for 'real women' modelling so it definitely gets my thumbs up. I also made a Facebook page (another shameless plug), I'm not really sure what I'm doing with it but I'll be updating posts and stuff on there as I know some people prefer to keep updated through Facebook as opposed to blog 'readers'. Would be fab if you could go 'like' that for me too :)
Okay, enough begging, I hope you're all having a fabulous week!