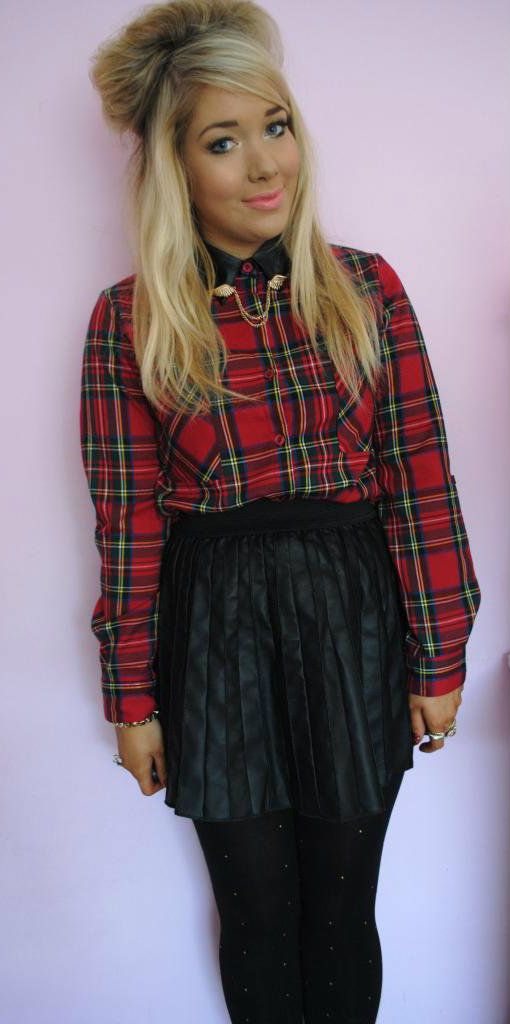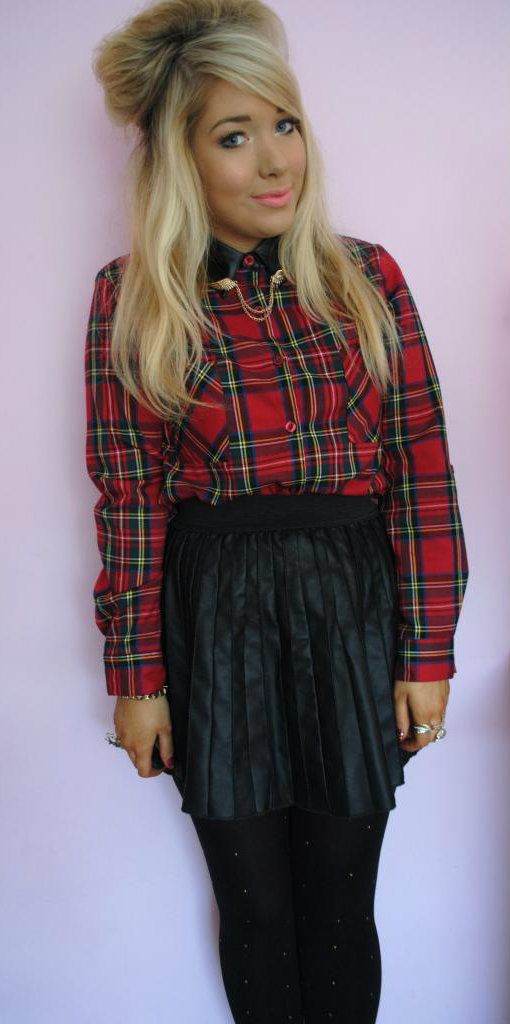 Been trying to keep up with posting lately, I'm loving blogging more! I've also cut down my hours at work so that I have some time to concentrate on finding work experience as well as keeping up with my blog. It's so easy to fall out of the blogging loop sometimes and it can feel a bit like your blog's been forgotten if you don't post regularly! I'm definitely glad to be back!
It's been getting so much colder recently and I am definitely embracing my winter wardrobe. In fact, I've been pretty bad recently - I'm supposed to be saving but I can't resist some of the gorgeous clothes in the shops at the minute! In particular, Missguided is ticking all the boxes for me this season. They just have SO many nice things, I could literally blow all my wages on there. I couldn't resist this shirt when it came in stock a couple of weeks ago. I've wanted a tartan shirt for ages (to feed the Gwen Stefani wannabe in me), and this one is so cute with it's faux-leather collar and gorgeous gold wing brooch detail. I love it so much and think it looks gorgeous with my trusty Primark faux-leather skirt, but would also look nice with disco pants too.
As winter seems to be heading this way pretty fast, I thought it was definitely time to dig the tights out.
These
gorgeous opaque tights from Pamela Mann have lovely gold studs all over, which will literally go with everything in my winter wardrobe. I LOVE anything gold so the majority of my jewellery and accessories are gold - hence how perfect these tights are for me! I was sent them a few weeks ago - the range on Pamela Mann's website is absolutely amazing so I'd definitely check it out if you're a tights kinda gal! I'm also sure I saw Jameela Jamil wearing some similar on T4 a week or so ago - making me love them even more! I've got my eye on
these
babies - skull studs + tights = the perfect winter combination.