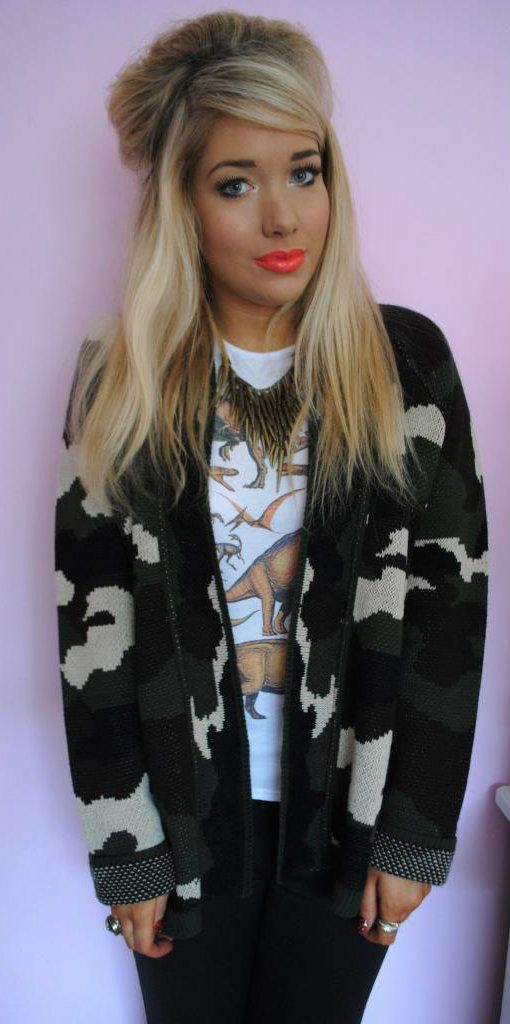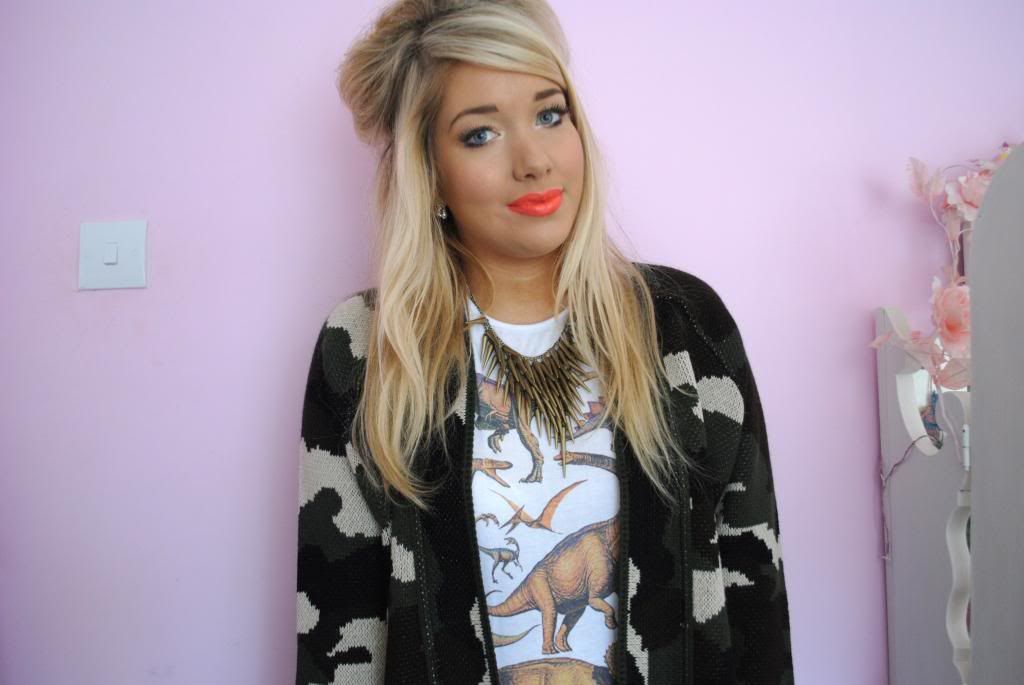 I am aware I look a little like a blogging cliche in these pictures - Disco Pants? Check. Camo? Check. Spiky necklace? Check again. What can I say, I'm really loving the 'trends' this season. Camo is huge at the minute. Like, it's EVERYWHERE. I wasn't sure whether it was a trend that was really 'me', but, again, an obsession with Gwen Stefani lead me to thinking I should invest in something. This cardigan is gorgeous - but it wasn't cheap! I've been debating taking it back as it was £46 and I think that's an awful lot for a simple cardi. It is thick and snuggly though so I can forgive it a little bit.
I adore the spiky necklace - I'd been after the elusive Topshop one for ages but I saw this one for £7.99 and it has a lot more 'drama' to it so I couldn't resist. It's perfect for jazzing up a plain outfit or rocking up a LBD. I'd wanted a dinosaur top for forever - but a lack of willingness to spend £25 on one from Topshop meant that it just hadn't happened for me yet - until now. I found this beauty in a local boutique for a bargainous £7.99! I love it. I've always had a thing for dinosaurs - when I was little I was forever carrying around this plastic Triceratops in my pretty pink handbag (obviously). Also - who loved 'The Land Before Time'? Oh my god, I was obsessed with that!
Finally, I gave in and bought some 'Disco Pants' or 'Tube Pants' or whatever it is you want to call them. Yes, I do love them; they're easy to wear and they are really flattering. I've actually just ordered another pair of floral embossed ones in River Island's sale (I'd pop in a link but they appear to have sold out) - I figured they're a key piece that go with everything so why not?!