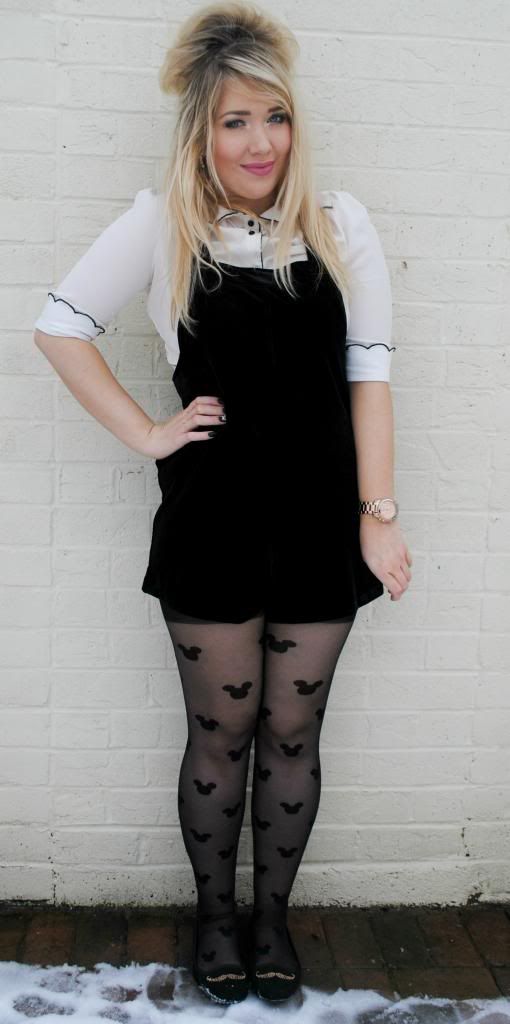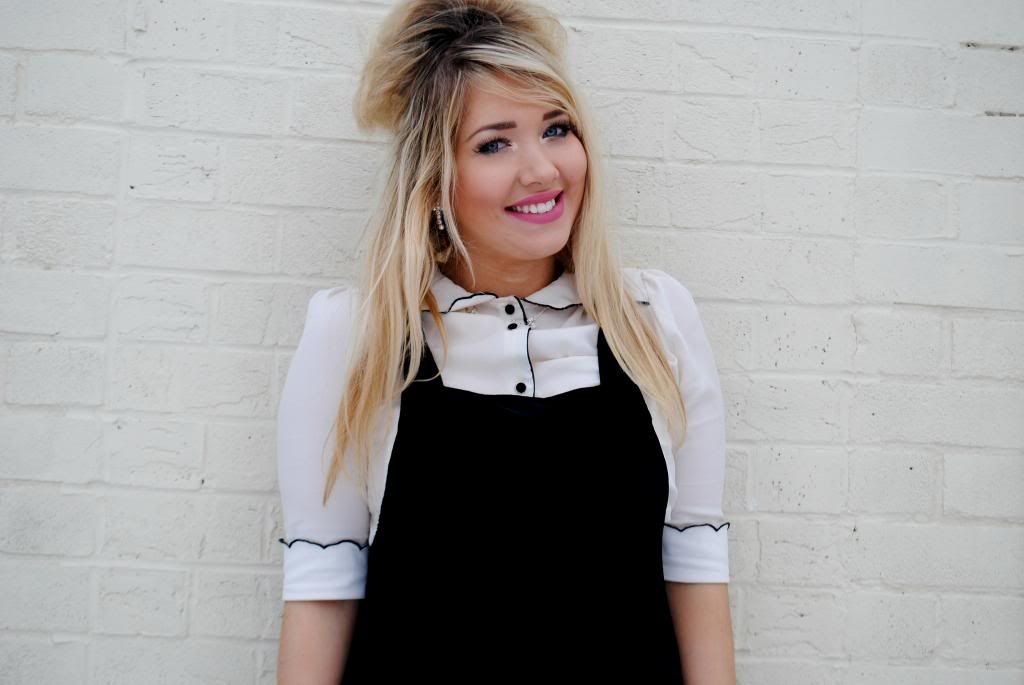 Shirt: Primark
Pinafore Playsuit: Topshop Sale
Mickey Mouse Tights: Primark
Moustache Shoes: Primark
Watch: Michael Kors
Earrings: Miss Selfridge
'Another outfit post?!' I hear you cry. Well I've been getting thoroughly into them at the minute, and the fact I'm finding outfits so easy to photograph right now makes me want to do them even more. Don't worry, I will be getting back to lots of beauty-related posts soon, as I have lots of things I want to talk about on here.
I mentioned in a post a little while ago that I'd been craving a pinafore playsuit/
dress
, and then I managed to snap the one I wanted from Topshop for a mere £18. Here it is! I absolutely love it. It's black velvet, with a gold zip and cross-over strap thing going on at the back. It's so comfy and easy-to-wear, I'm seriously in love with it. I thought I would pair it with my trusty Primark scallop-detail shirt, and my new favourite Mickey Mouse-patterned tights, also from good ol' Primark. These are SO incredibly cute - I had to buy two pairs as I knew they'd ladder, and now I'm wishing I bought a few more as yes, they ladder. Heartbreaking, but so cute! Speaking of cute, I just couldn't resist purchasing the adorable moustache shoes from Primark, that everyone and their mother seems to have. I was debating getting them or some silver skull patterned ones, but I much prefer gold so I went for these. I'm so glad I did - I think they scream Topshop but without the hefty price-tag - hooray!
Just a heads up about the playsuit - if you manage to track one down in your local Topshop sale, don't worry if they don't have your size - I actually got mine in a size 10, whereas I'm usually a 12/14. The 12 was a bit on the baggy side so it's worth trying for smaller if you can!
Hope everyone is having a good week!
*This is a sponsored post*