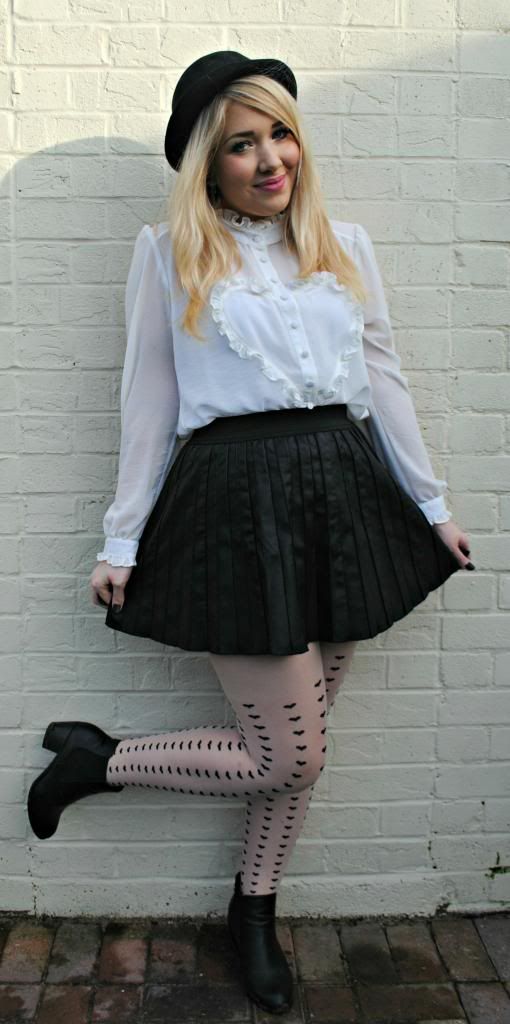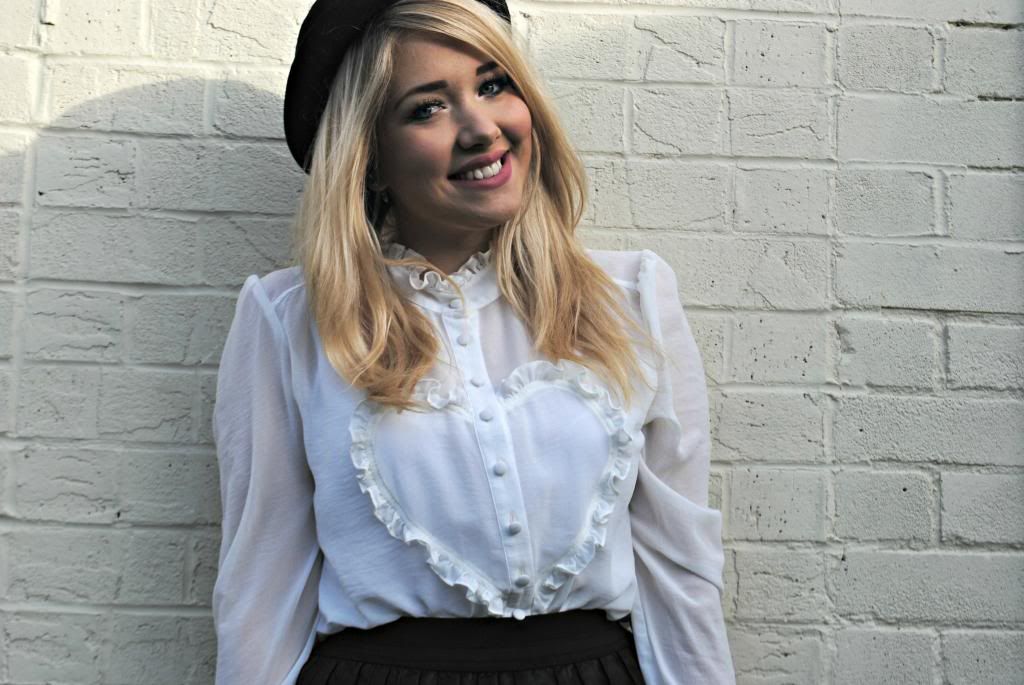 Shirt: Asos
Hat: Asos
Skirt: Primark
Tights: Primark
Boots: River Island
Another outfit post for you all! I'm really getting into blogging at the minute. I'm determined to get organised and improve my blog more and more, so I've been knuckling down and planning posts, taking lots of photos and generally just being productive! It definitely helps to write things down, as otherwise I forget what I need to do or end up not blogging at all due to not knowing which post to upload. Thank God for lists!
I really like today's outfit. I'm getting heavily into hats at the minute; I'm usually never seen without my hair in a beehive, but it's nice to have a day off and give my hair a bit of a break. I know these bowler hats are everywhere at the minute, but they are so easy to wear and I think they'll suit pretty much anyone. I really like how the black contrasts with my hair. It's also pretty nifty for hiding dark/greasy roots - win win!
I adore this white heart shirt, I've had it for absolutely ages but I really don't get enough wear out of it. It's so cute and pretty I know I should make a concious effort to wear it more often. I think it'll look cute with high-waisted pastel shorts/skirts in the summer too. Also in love with my heart tights, got them from Primark a while ago and wasn't too sure to begin with, but I can't get enough of them now. They're so sweet and remind me of the Queen of Hearts or something. I definitely want more tights like these!
Also - today I decided to upload my first ever proper YouTube video. I'd really love it if you could subscribe and comment, let me know what you think!
Is everyone looking forward to the weekend? I'm dreading starting back at work on Monday, sob sob!